Sometimes old school is a good thing. Sometimes it's not!
I've always been of the old school train of thought when it comes to toothbrushes. For years and years, regular old manual toothbrushes were my go-to daily dental care tool. Why? Well because I'm a busy mom of 3, with zero time, tons of other expenses that usually revolve around my children and I just never spent the time or the money on myself. I'm sure there are some parents out there that can relate! We spend thousand upon thousands on our kids and our families without blinking an eye, but when it comes to investing in something for ourselves …we give pause.
So it must have been life's little way of telling me that I, too, deserve the best, when I was given the opportunity to test and review the new CariPRO Electric Toothbrush. My new little electric best friend has changed mind (and my mouth) forever! I'm totally hooked- for at least 2 minutes 2x a day, I'm taking the time to focus on MY self care, not cutting any corners and giving my teeth and gums the love that they deserve. Can you say #sorrynotsorry!!?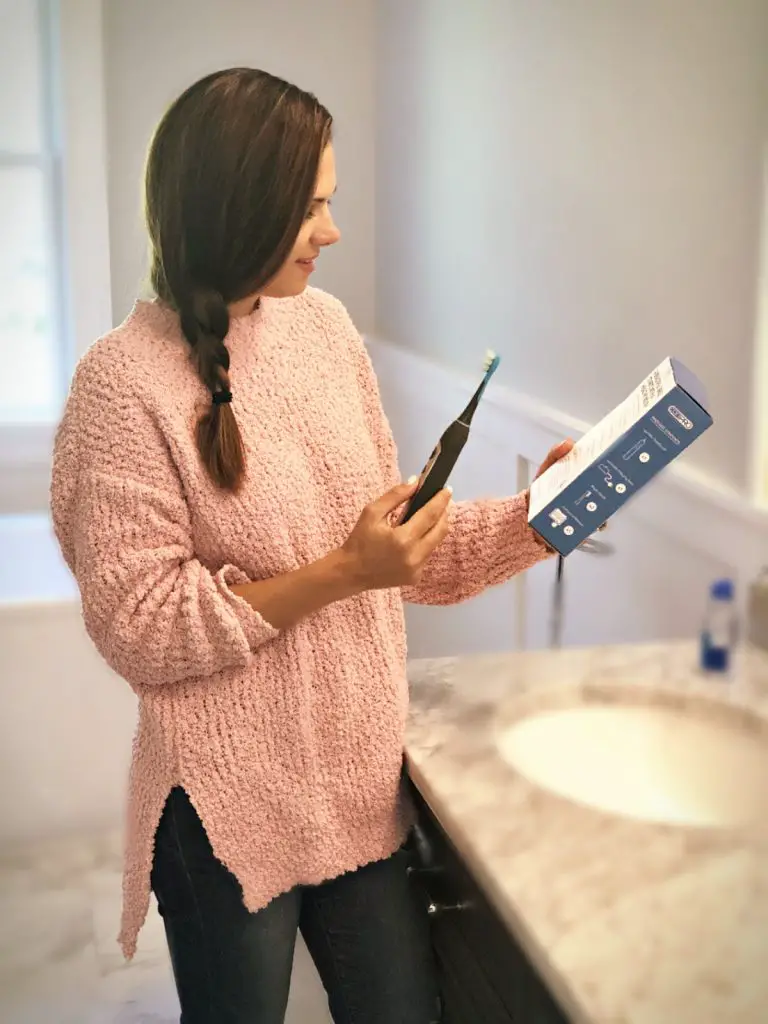 And not only am I absolutely loving my gift, but I get to pay it forward with another FREE TOOTHBRUSH PACKAGE to GIVEAWAY to one my dear Salt Sugar Spice readers!! I also have a 20% off coupon code for you if you want to go ahead and order right away! More details to come on those 2 exciting money savers below, but for now let's get back to this toothbrush!
It's only been 3 weeks now but I can already see such a difference in whiteness, plaque build up and gum sensitivity! Genetically, I'm blessed with "good teeth" believe it or not, I've never had a cavity on any of my adult teeth. BUT on the other side of the coin, I have weak/ worn enamel and I am a vicious night time teeth grinder. So with any dental treatment I need to make sure is gentle, because my teeth are very sensitive. But this is not a problem with the CariPRO!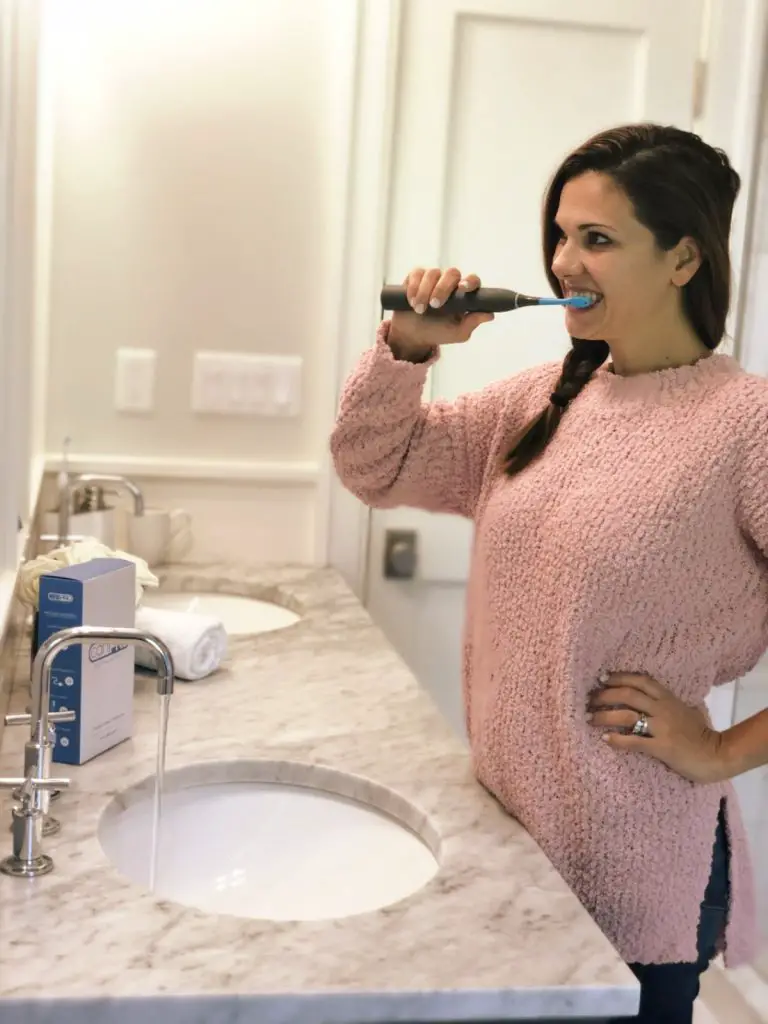 The Cari Pro toothbrush is a sexy, slim shape in a sleek modern graphite gray color, not large and clunky eye sore sitting on the bathroom counter as I've seen with competitive brands. It's waterproof, which is awesome because I love brushing in the shower sometimes. The toothbrush actually gives a brief pulse 4x within a 2 minute period to signal to you that it's time to move on to another quadrant of your mouth. That helps ensure you are cleaning every tooth from every angle, and that you are brushing for the full recommended 2 minutes. The CariPRO toothbrush has 5 brush modes: clean, white, massage, gum care, and sensitive. I've used them all, and here's my thoughts on each one: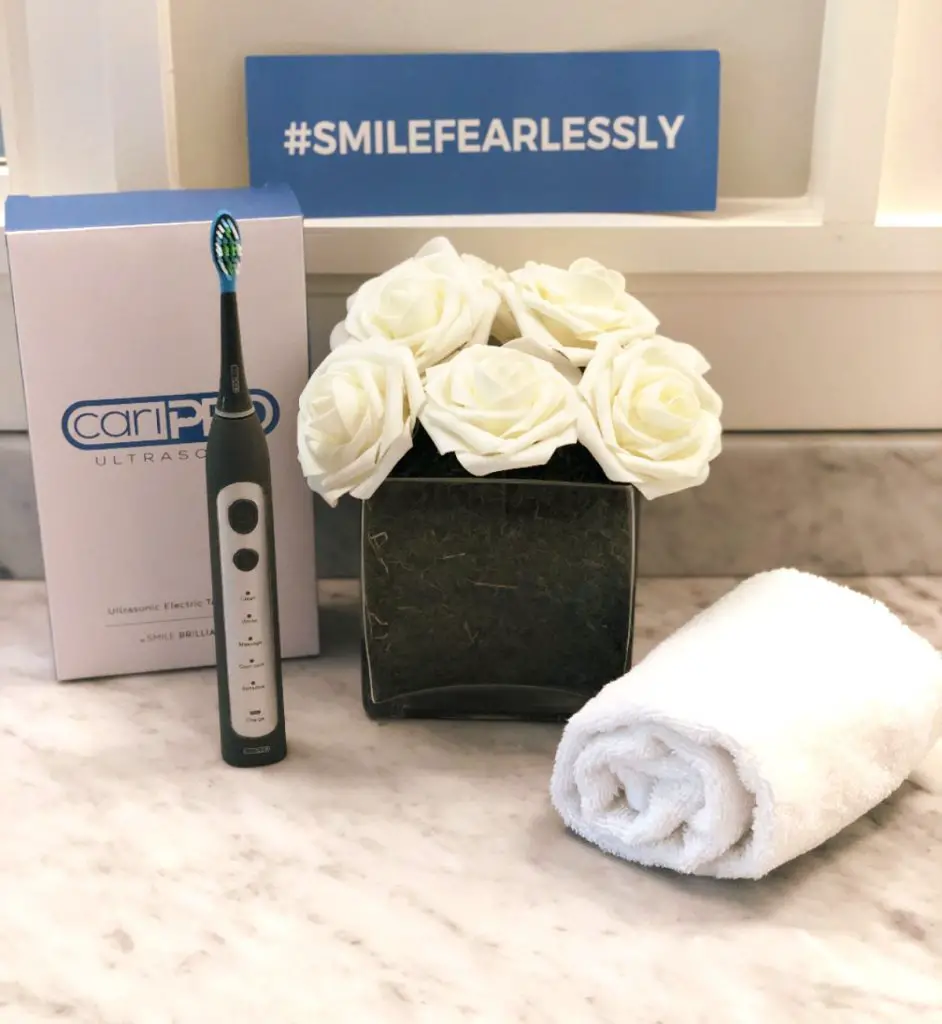 ---
Clean: This is the main cleaning setting. I started off using this setting, I did like it. My teeth were completely smooth, no tartar or plaque left after my 2 minutes. However, because I have been warned by my dentist time and time again about my weak enamel, this setting is not where I spend most of my time
---
White: Ok this one is fun! It's the most powerful setting and the whitening power is legitimately noticeable! Are you familiar with the treatment at the dentist office where they put goggles on you to protect your eyes and take out the "sand blaster" which pelts your mouth baking soda with the intention of being a whitening treatment? Consequently, the baking soda also hits you all over your face, which is great for exfoliating- but time and place, amiright!? So the CariPRO is a much less messy interpretation of that! I love it and I use it every couple of days.
---
Massage: Ok who doesn't love a massage? I actually use this setting after my 2 minutes, without any toothpaste. I just rub it along my gums, tongue and roof of my mouth. It feel so good! And it really aides in the overall "AHHHHHH" feeling of freshness!
---
Gum Care: I'm sure you heard of Gingivitis before. It's actually an early stage of gum disease caused by the buildup of plaque. Not a word you want to hear at your next dentist visit! This can be prevented by regularly flossing AND with this function on your electric toothbrush. The oscillating motion really attacks the plaque from building up, and it really is superior form a prevention that the manual toothbrush just can't match.
---
So moral of the story here, folks- electric toothbrushes are really not just an unnecessary luxury! There are real significant benefits to upping your daily dental care game that can have a long lasting impact on you overall health! I'm so happy to be a part of the Smile Brilliant family, the CariPRO electric toothbrush actually makes me excited to brush my teeth! In fact… gotta go, I've got a date with a toothbrush!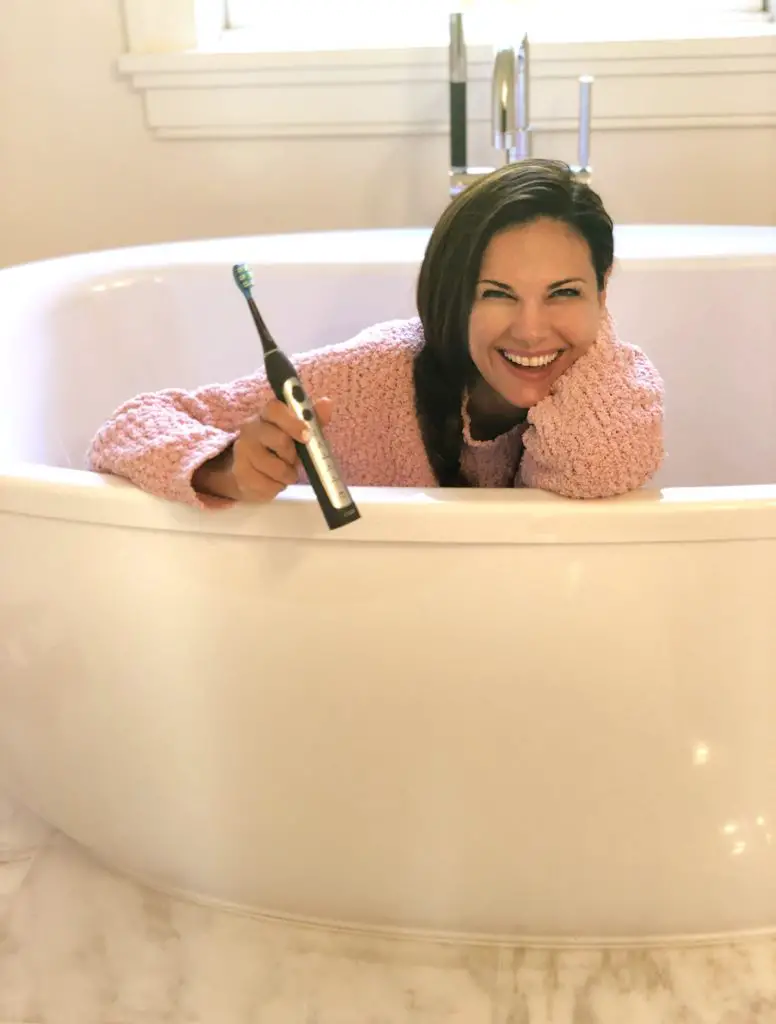 ---
For a chance to WIN your own CariPRO simply click this:
Or if you would like you get started right away, use my exclusive 20% off Coupon Code : saltsugarspice20
Rules for entering: Must submit name and email address on the giveaway page in order to enter! The winner will be selected and contacted via email 2 weeks after the date of this post. Giveaway is open to USA, UK, Canada, and Australia.