Why, hello there!!!
Thanks for stopping by my tiny corner of the Internet.  There are a million gazillion other places you could be spending this moment right now, but you are here with me, so really, thank you!
The concept of "about me" is a little difficult, but here's a high level portrait; my name is Brenda, and I'm the lucky mom of three dynamic, kind-hearted boys and the loving wife to one handsome, brilliant technologist and entrepreneur.
As a South Florida native currently living in a quaint town in Fairfield County, Connecticut, I spend roughly 6 months of the year daydreaming of sunshine and flip-flops. Despite my almost constant state of chilliness, I live for cheering on my sons from the sidelines, silly nights out with my mommy friends, and complete silence in my house whilst curled up with a great book.
But, on most moments of the day my thoughts revolve around one ever present entity; food! I basically live my life from one meal to the next.
I love cooking, enjoying other people's cooking, reading recipes or food related articles, and various food science concepts… I'm basically the 'Very Hungry Caterpillar' in the form of a woman with a high metabolism.
Professionally, my background is in Education – Elementary and Preschool, but I've also spent nearly a decade in the vastly underpaid profession of stay-at-home "momming". Both of those wonderful and maddening experiences have left me with premature grey hairs, but also groomed me to be the person I am today.
As the years start to stack up on me, I find myself verging on an obligatory existential crisis. And, since I'm a raging overachiever with a perfectionist complex seeking to self-actualize in the most streamlined and effective way possible, this particular quote really resonated with me:
"Follow your passion, for your passion will lead you to your purpose."
Passion and Purpose. That's when it hit me.  I love teaching and I love cooking. I NEED to combine the two. My passion for innovating, eating and most importantly sharing food is my daily driving force- I find my joy in yumminess.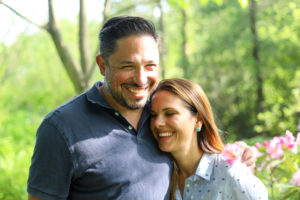 With this blog, I hope to teach fellow food loving people that eating home cooked, health conscience meals is worth the time invested!
With a little planning and preparation your weekly menus can impress without the stress!
I hope to inspire you the way so many home cooks and professional chefs have inspired me to indulge, create and share through the nourishment of food.
Life is a delicious and unique adventure for us all, and I'm here to share a little bite of mine with you.
Cheers!
– Brenda