Truth be told, I stared planning my Thanksgiving Menu in September! Since my food blog, Salt Sugar Spice, is only six months old I had zero seasonal content from years prior to backpedal on. And, the sweet spot for google searching for Thanksgiving recipes is weeks before the actual Turkey Day.
It quickly dawned upon me that I would need to be cooking and documenting a FULL Thanksgiving Dinner at the beginning of November if I had any chance of presenting relevant recipes to my followers. I'd be lying if I said that I was particularly thrilled about the concept of preparing and purchasing the ingredients for multiple Thanksgiving dinners in one month.
Like a strike of lightning, I was zapped with an opportunistic revelation; what if I used this meal to host a Thanksgiving themed party, better known as "Friendsgiving"? What if I enlisted the help of other local merchants and businesses to make this Friendsgiving as fabulous as possible? What if we joined together to showcase the value that our given industries can provide to other hosts planning their own holiday parties. AND best of all, what if we used the images and content created from this event to raise money and awareness for a worthy cause?
And so at 10 am on September 4th, while sitting at my kitchen table with a hot cup of coffee in one hand and a ballpoint pen scribbling away in the brainstorming notebook splayed open in front of me, I decided that if I was going to be investing time and money on cooking a Thanksgiving meal for Salt Sugar Spice, I was going to make it the best damn dinner it could possibly be. Yet more importantly, I was going to be cooking this Thanksgiving dinner for a purpose.
As fate would have it, while I was looking for a cause, "No Kid Hungry" was looking for "Friendsgiving" hosts.  My husband actually found No Kid Hungry's call to action on Twitter. The campaign presented was encouraging philanthropically minded Americans to throw a Friendsgiving Fundraiser to raise money and awareness for their cause. No Kid Hungry is a major contributor of funds that sustain Federal Nutrition Programs, such as the school breakfast program, the summer meals program and the after school meals program. They provide funding for SNAP and WIC which provides low-income families with money to purchase food. Sadly, about 20 million children in the United States rely on SNAP benefits, and WIC serves 53% of all infants born in the United States!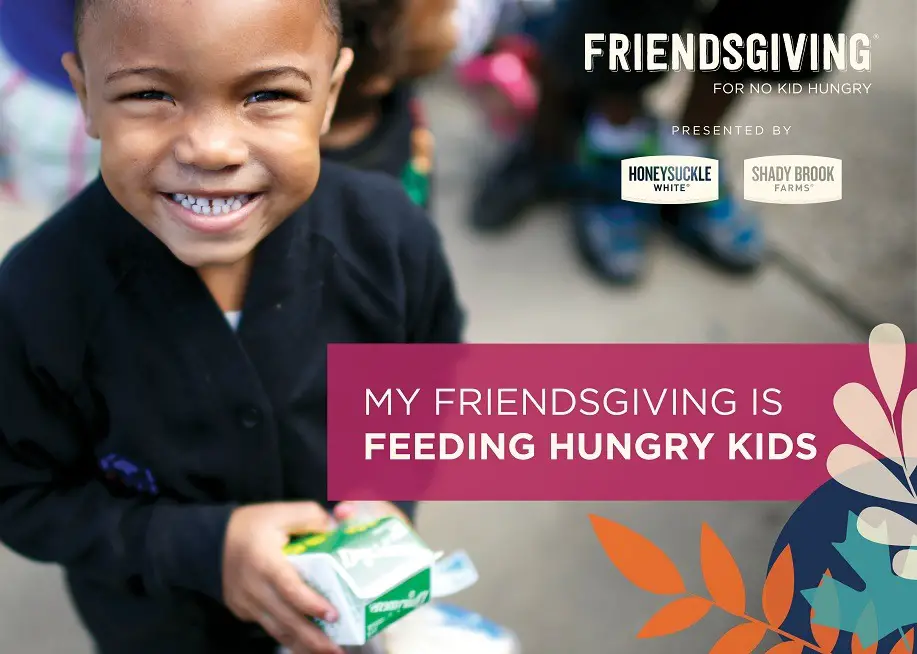 The deeper I dove into NO KID HUNGRY'S initiative the more determined I became to involve as many other businesses as I could to spread awareness. What would have been just my ordinary stream of recipe testing, photography, and writing soon became a vision of an actual hosted event where I would not only be sharing my recipes, but collaborating and cross promoting with other local business owners in an effort to raise funds for the more than 11 million children living in food insecure homes in America.
I wanted to orchestrate a picture perfect "Friendsgiving", but there are so many other elements at play when hosting a memorable evening, many of which are beyond my skillset.  I was in over my head, so it was best to outsource.  As with any project, many hands make light work. I thought about all that planning an event entails: décor, food, dessert, wine, flowers, hair/makeup, and of course quality pictures to capture the moments. And so, the quest for cohosts began. Luckily for me, I didn't have any trouble finding talented business owners willing to donate their services to contribute to the "Friendsgiving for No Kid Hungry"
When I thought of the ideal location for Friendsgiving, I was immediately taken back to a dinner party I once attended at the home of my friend, Leslie Toran.  Her home is warm, elegant and sophisticated.  And not by coincidence, she and partner Kim Harper own and operate a successful Interior Design company servicing Fairfield County and the greater Manhattan area. They know how to present a tasteful ambiance with impactful details without appearing overdone. As you can see from the images, they certainly delivered on creating an enchanting space to gather.
With a juxtaposed approach between ornate and demure, the dining room was set with a formal place setting using china and crystal. While relaxed white stoneware serving pieces allowed the food to take centerstage with poise and grace. They chose casually beaded resin napkin rings in traditional Harvest inspired palate to adorn neutral linens at each seat. Toran and Harper's knack for turning everyday spaces into stylish yet functional living areas was flawlessly demonstrated. If you are having dining room envy as bad as I am right now, it may behoove you to visit their website to learn more about Toran and Harper Interiors and see how they can make your #homegoals come true!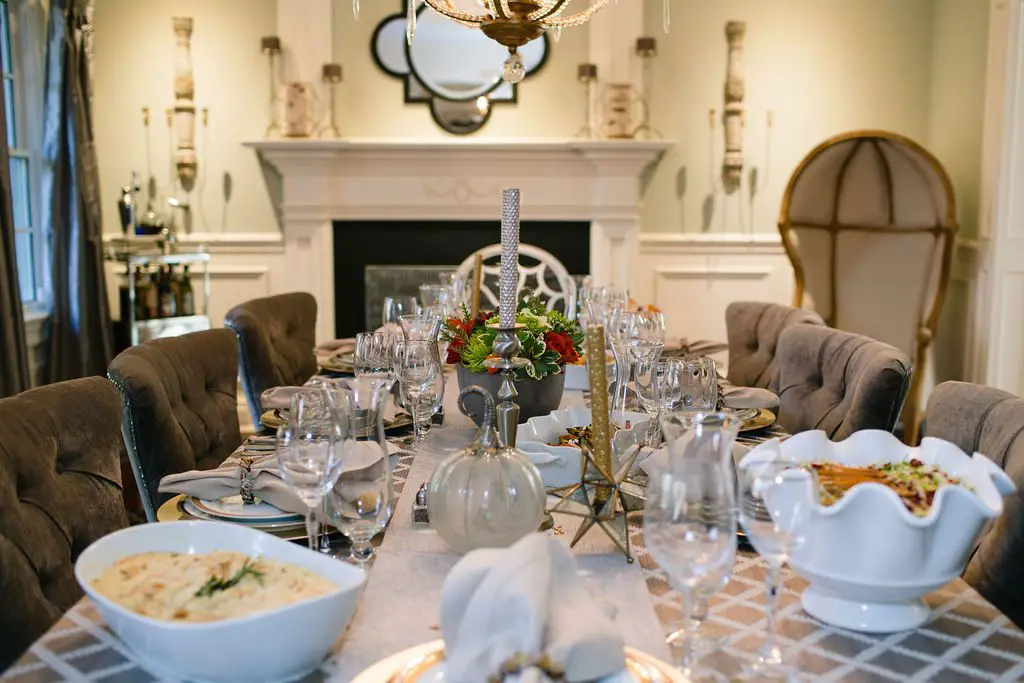 Once the location was settled, a nearly as imperative element was documenting the evening. Who better to capture our Friendsgiving than local photographer Jenn Valluzzo of JennV Photography? Her photographs are more than just images, they are a slice of time that invoke a feeling. Her patient, gentile presence puts everyone at ease while on location and she is especially gifted at anticipating a natural interaction between people. Jenn can typically be found documenting and filming families, so she was a natural fit for this casual, yet elevated Friendsgiving evening! To learn more about her documentary family photography and films head to www.jennvphotography.com.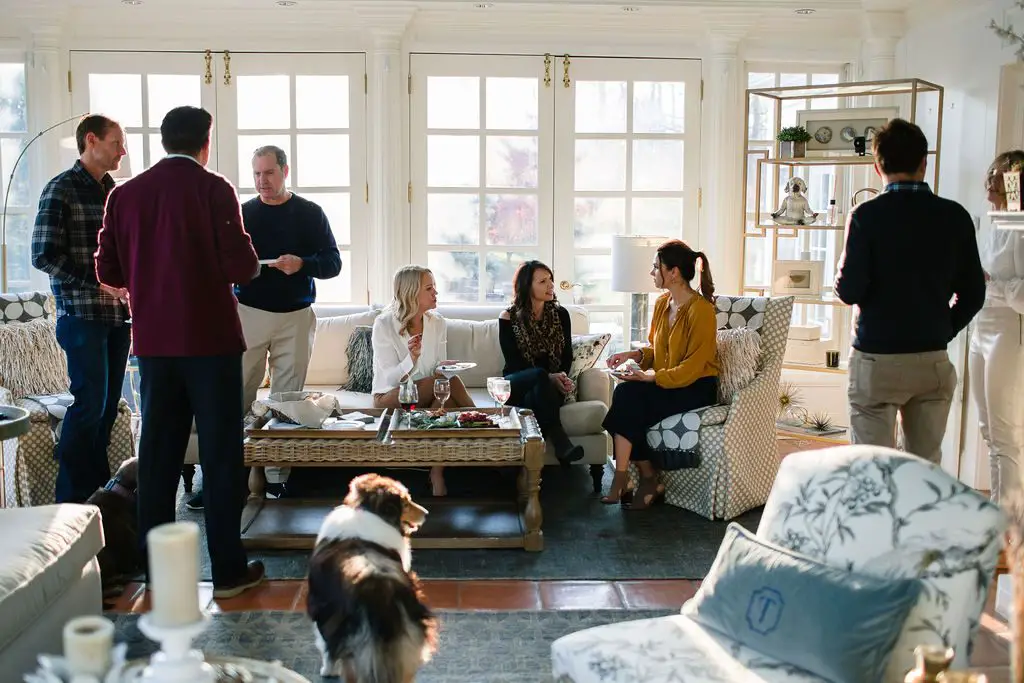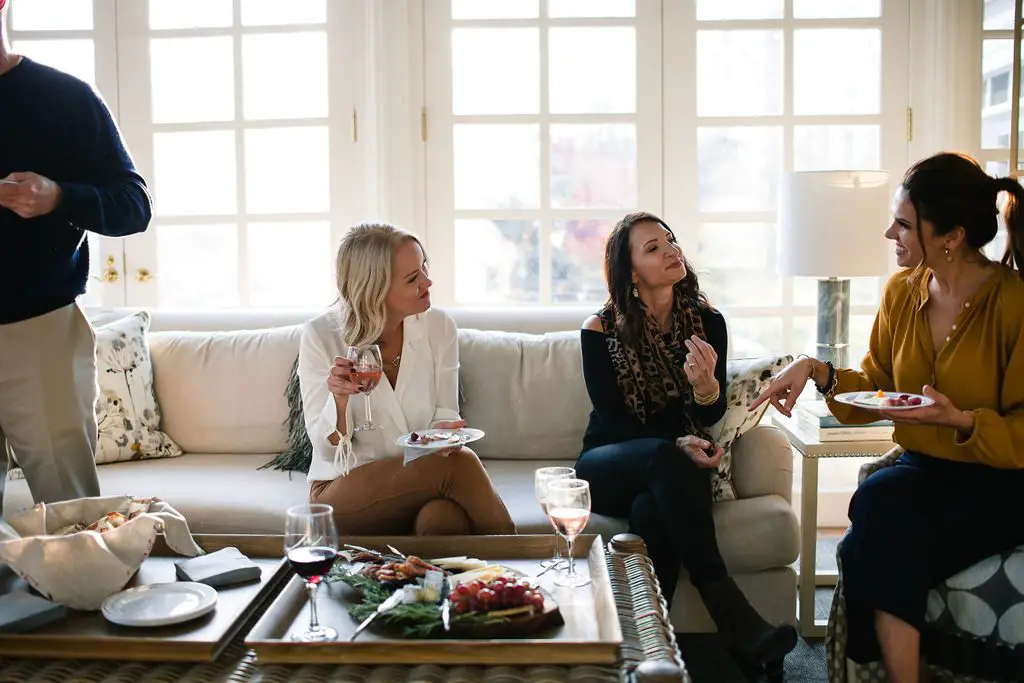 And since we were to have such a talented photographer present, looking our absolute best was crucial. Lucky for me, I know just where to go to get all done up! Whip Salon, owned my dear friend and accomplished serial entrepreneur, Amy Pal.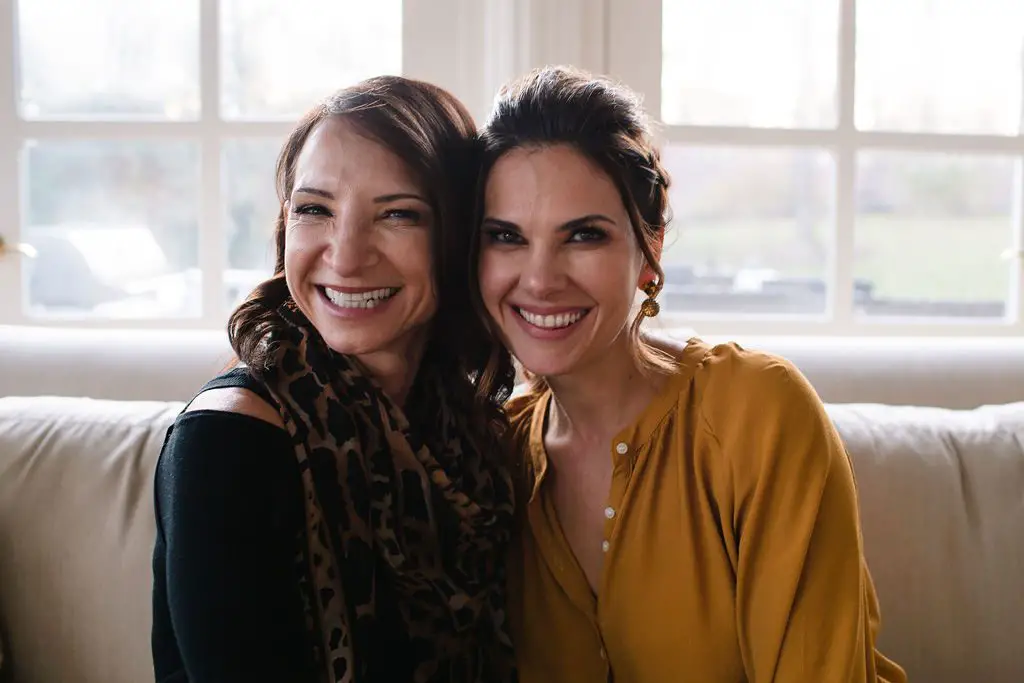 Whip Salon has locations in Ridgefield, Westport and Newtown and is open 7 days a week! It's the best around for haircuts and color and they even have a blowout memberships program. Not only can you get your lovely locks fully serviced, but they offer makeup, waxing and eyelash extensions.  Whip Salon's beauty professionals can create makeup looks ranging from pumped up glam to minimalist elegance to help you look your best all night long. Any hostess looking to create a fabulous Thanksgiving for her guests, should spend time investing on looking and feeling her best, and Whip Salon is just the place to do that. Visit their website to find a location near you and see their list of services to save yourself a seat in a stylist's chair for your upcoming holiday events!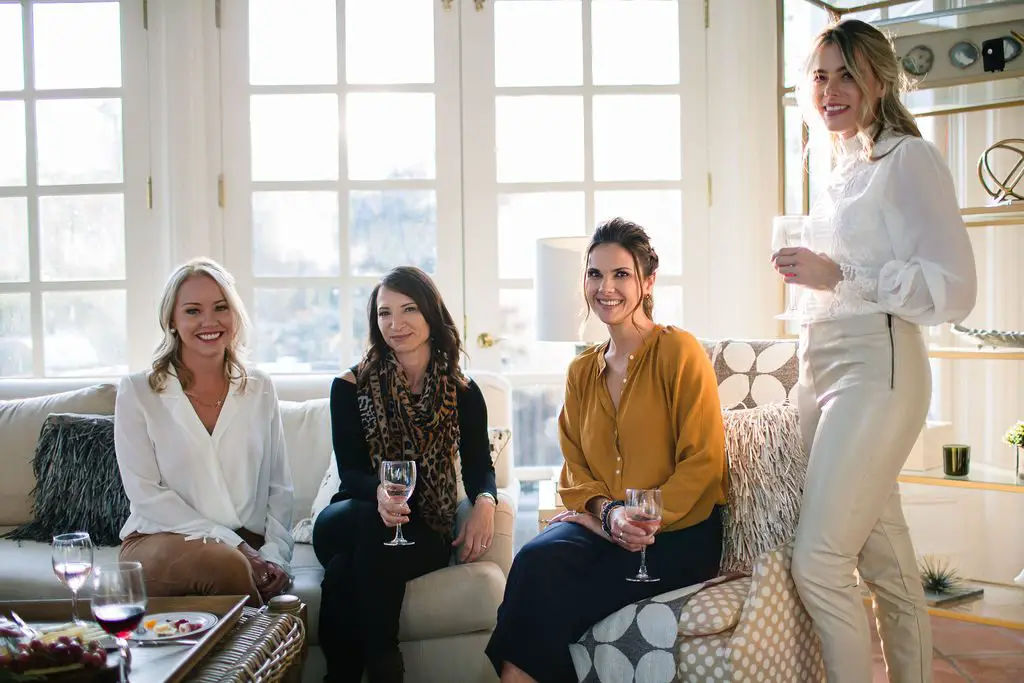 To further the tasteful décor of the Friendsgiving, I felt like skillfully crafted floral arrangement would be a valuable enhancement. Laura Cantwell, of Purple Heather Floral Design crafted a gorgeous arrangement of crafted a gorgeous, fun and festive Autumnal design using colors and textures of the Season with the added a twist of a modern cement bowl.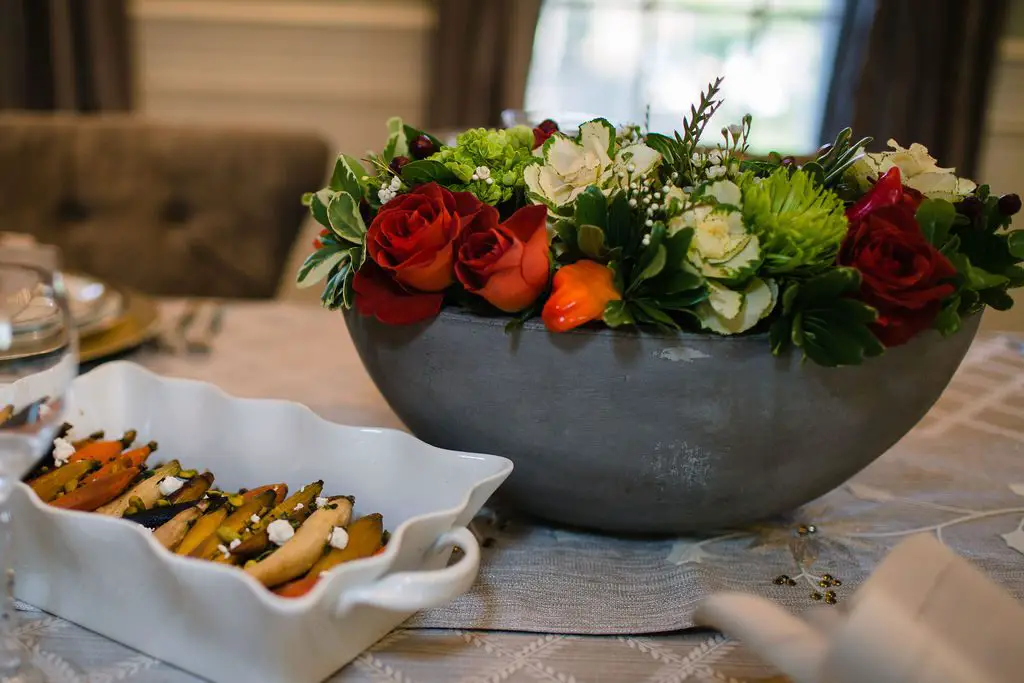 Fresh florals can be such a breathtaking statement on a Thanksgiving table scape. To learn more about how Purple Heather Floral can assist you in adding a little panache to your own Thanksgiving or Holiday Party visit her Facebook or Instagram Page.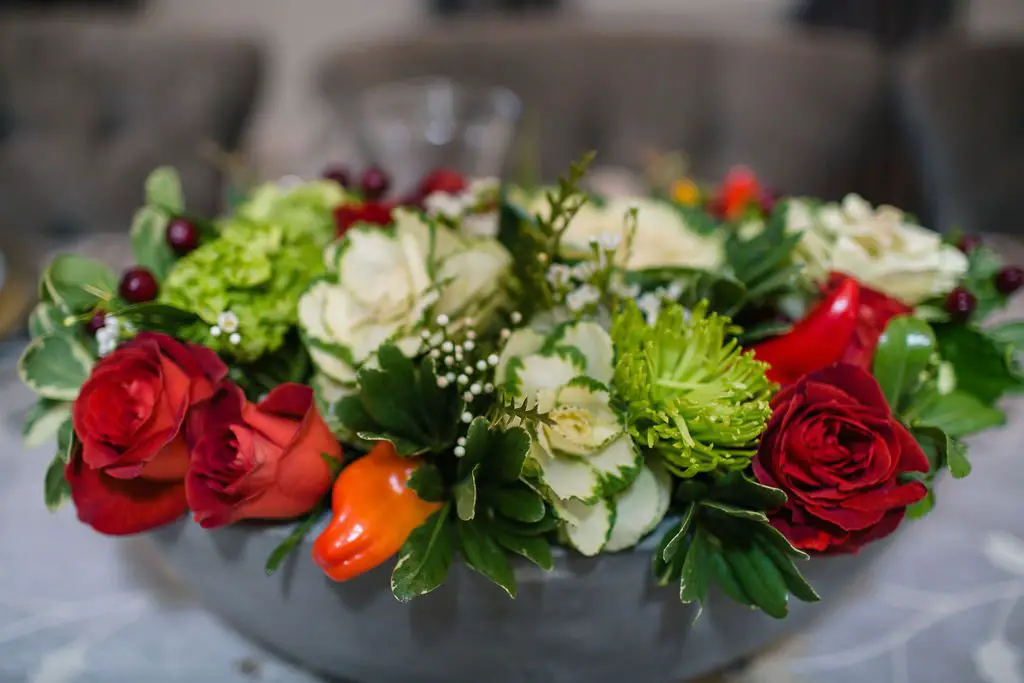 Now that the beauty aesthetics were handle by women better than me, it was time for the food to deliver! This is where I come in! My menu for the evening, was a tribute to the Thanksgiving dinner I traditionally serve in my home for close friends and family:
Browned Butter Mashed Potatoes with Buttermilk
Fresh Cranberry Sauce with Granny Smith Apples and Orange Zest
Maple Glazed Rainbow Carrots with Pistachio, Goat Cheese Crumble and Pomegranate
Apple Cornbread Stuffing with Fennel, Pancetta, and Sage
Shaved Brussels Sprout Salad with Pears, Bacon Crumble, Manchego, Walnuts and Cranberries tossed with a Maple Citrus Vinaigrette
I am proud to say everyone in attendance was thrilled with the feast! I know that these titles sound intricate, but as a self-taught home chef, I can assure you that they are highly achievable with the step by step instructions that I have included for you in each recipe on my blog. Click the links attached to each menu item to view instructions if you desire to create these dishes yourself! For more recipes and meal plans, follow Salt Sugar Spice on Facebook, Twitter, Instagram, Pinterest, and Subscribe to my website!
Nearly as important as delicious food when hosting Thanksgiving is great wine. I reached out to Diego Avanzato, SVP of Portfolio Management and Marketing for Taub Family Selections, who happens to be a good friend and sommelier.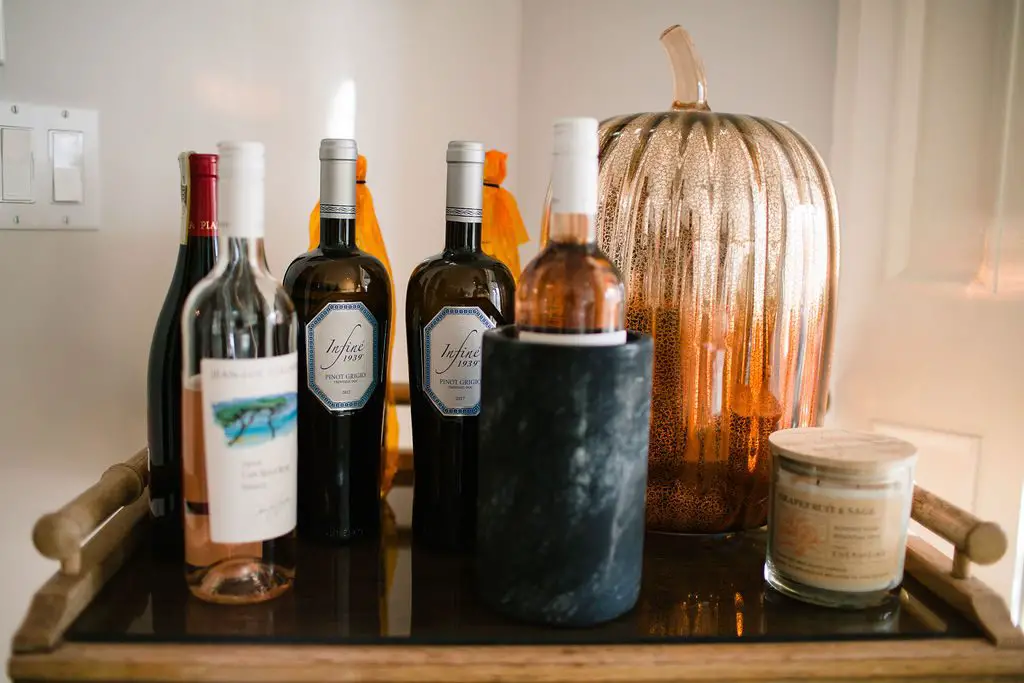 Taub Family Selections is a global wine importing company with an impressive portfolio of fine wines produced by highly-regarded wine making families with deep, long-established roots. We discussed the menu and he suggested bottles that would complement the traditional flavors of the Harvest season. He also made sure to choose selections that could be purchased locally at Ancona's Wine & Spirits, 109 Cheese &Wine Market and Stew Leonard's.
His recommendations for the evening were the following for selections, to learn more about each bottle or Taub Family Selections, click on the following links: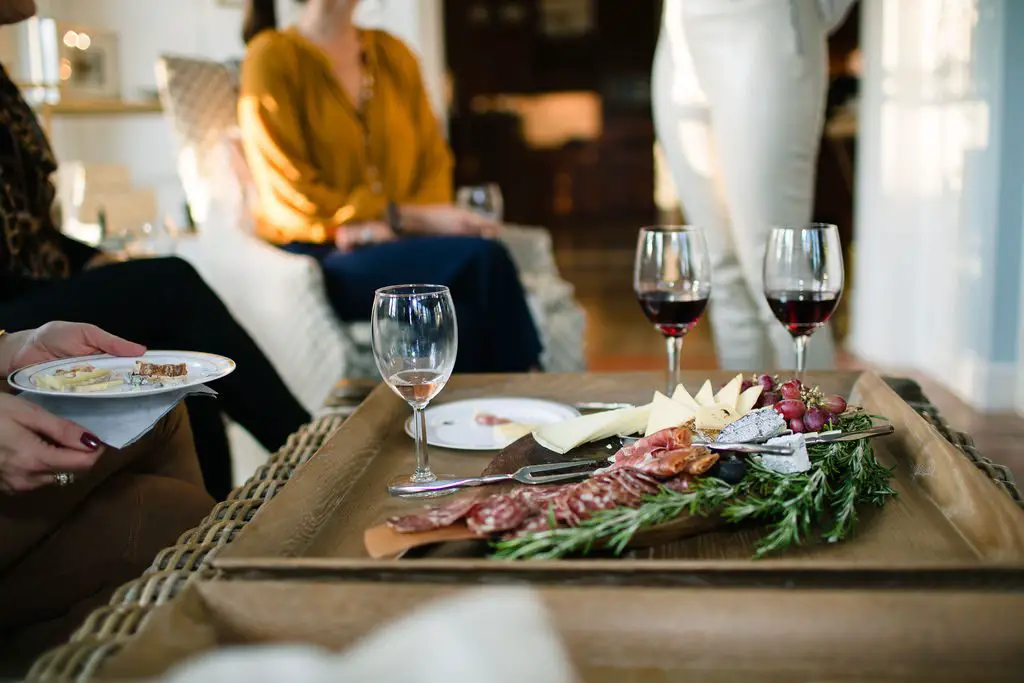 And what is wine without cheese; the answer: lonely! My favorite specialty market 109 and Cheese Market, is the absolute best resource around to assemble and assist in creating beautiful cheese boards.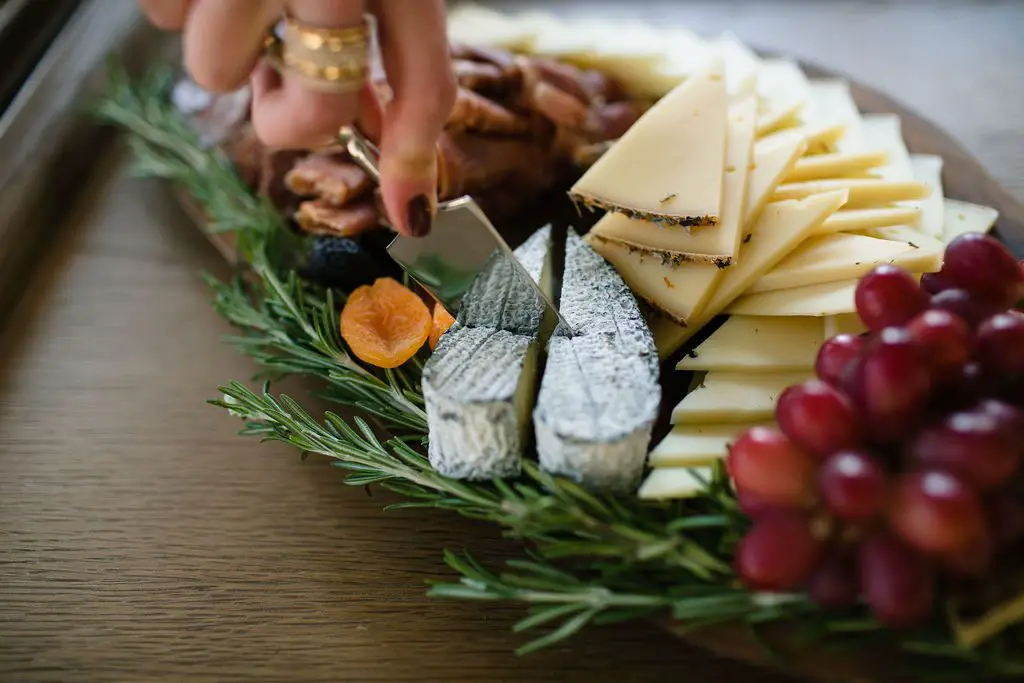 Owners, Todd and Monica are passionate, knowledgable, and dedicated to curating the finest cheese, charcuterie, wine & gourmet products available in their two Connecticut locations of Ridgefield and Kent. In fact, can I just officially decree that from this point forward, that not a single holiday host within driving distance of either location, neglect to utilize their treasured selections of cheese, wine and artisanal accompaniments? For our Friendsgiving for No Kid Hungry, Todd and Monica provided nibbles for the cocktail hour with a gorgeous maple wood board boasting a selection of three cheeses:  
Delice Des Poitou: an ash ripened goat from the Loire Valley,
Alp Blossom: crafted from Brown Swiss cow's milk in Western Austria,
Le Secret de Compostelle: a raw sheep's milk cheese from the Basque country.
And two freshly sliced varieties of quality cured meat: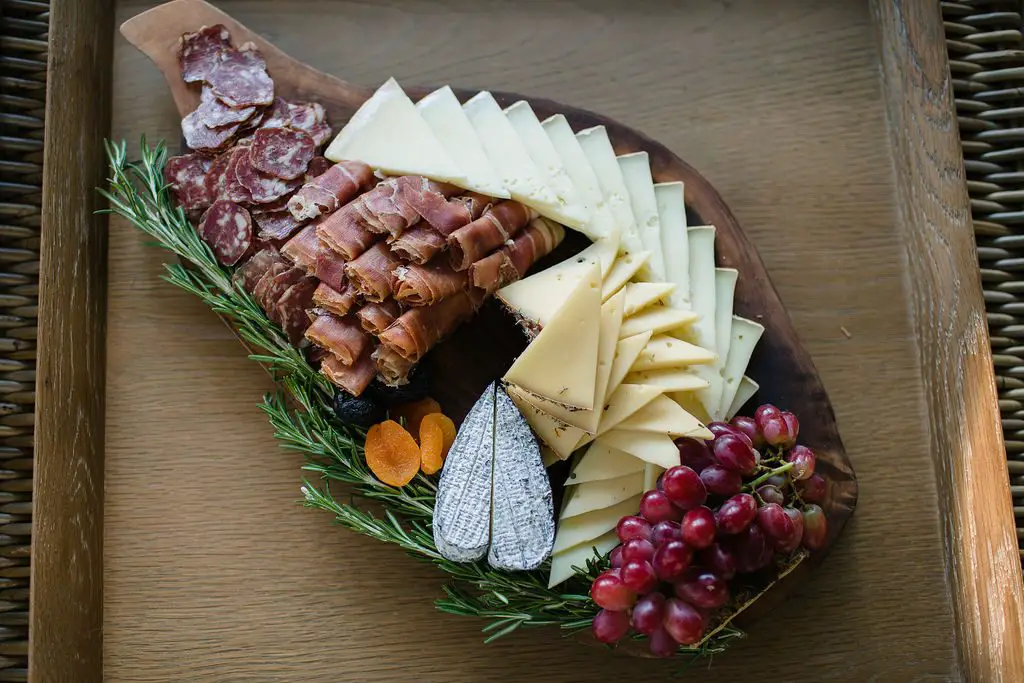 Salumeria Biellese Finochietta: A coarsely ground Tuscan salami with fennel forward notes.
Jambon de Bayonne: a French prosciutto that is hand-crafted and dry-cured for 12 months.
Served with one of 109's ever ready par baked French baguettes, and we felt no less delighted than had we been whisked away to a sun soaked Parisian picnic.
Visit  https://109cheeseandwine.com/  to order a tailored made cheese board for your own holiday occasions!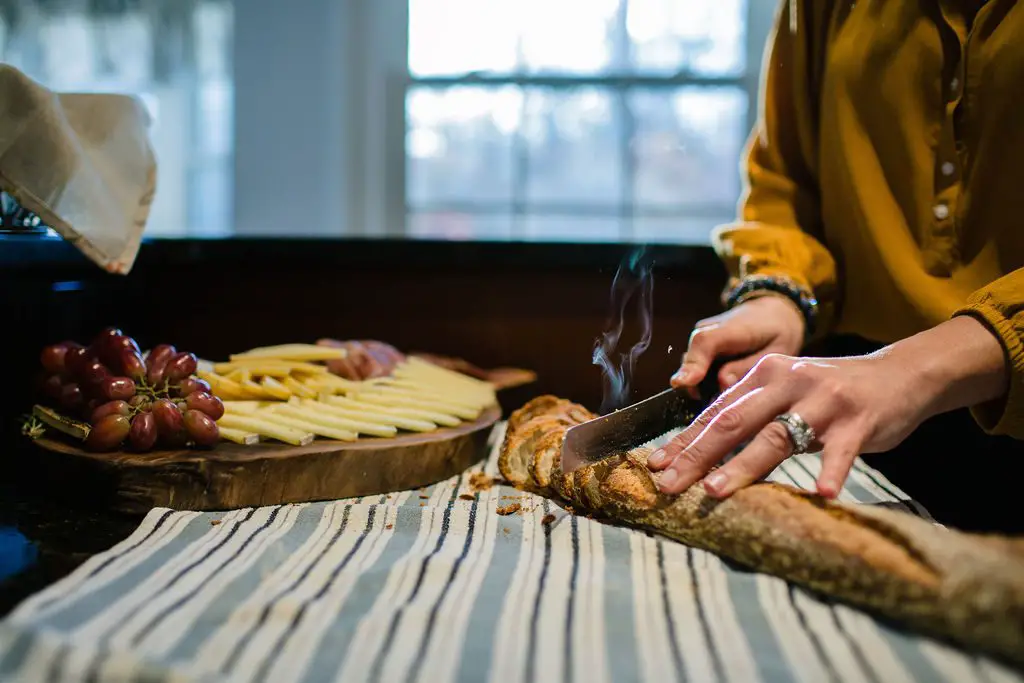 While I could have added to my cooking task list and baked something traditional to end our feast, instead I used the tactic that every Holiday hostess should employ when they are already maxed out- delegate dessert!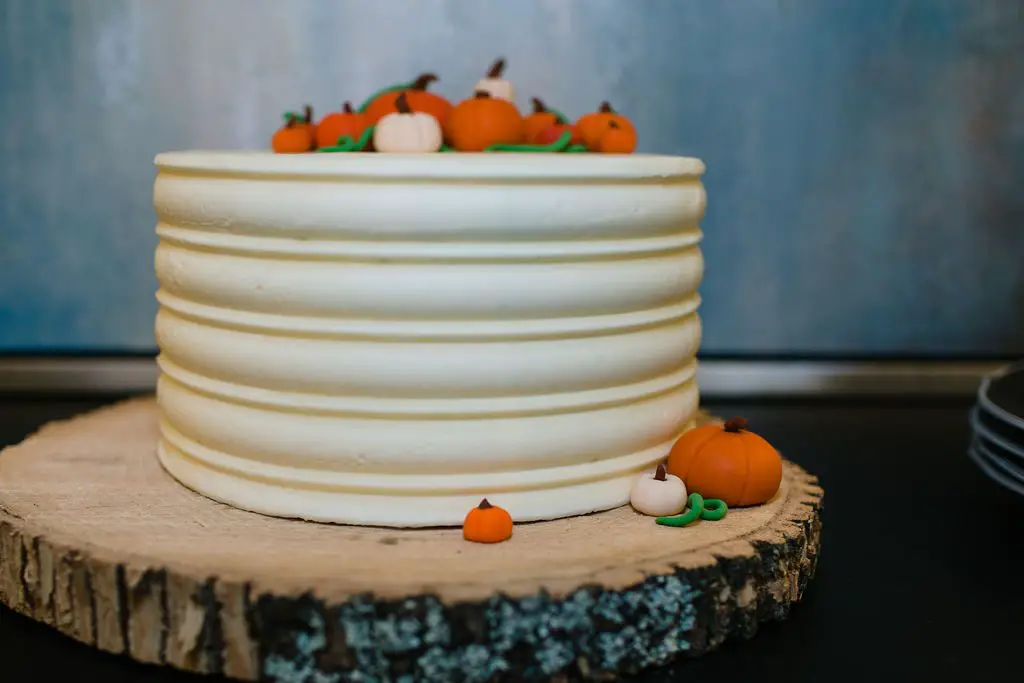 I've been drooling over Stacey's Totally Baked sweet creations since 2016. Stacey Sussman is a Ridgefield momtrepreneur and supreme talented at creating edible works of art! She specializes in homemade cakes, cookies and cupcakes that look amazing and taste even better!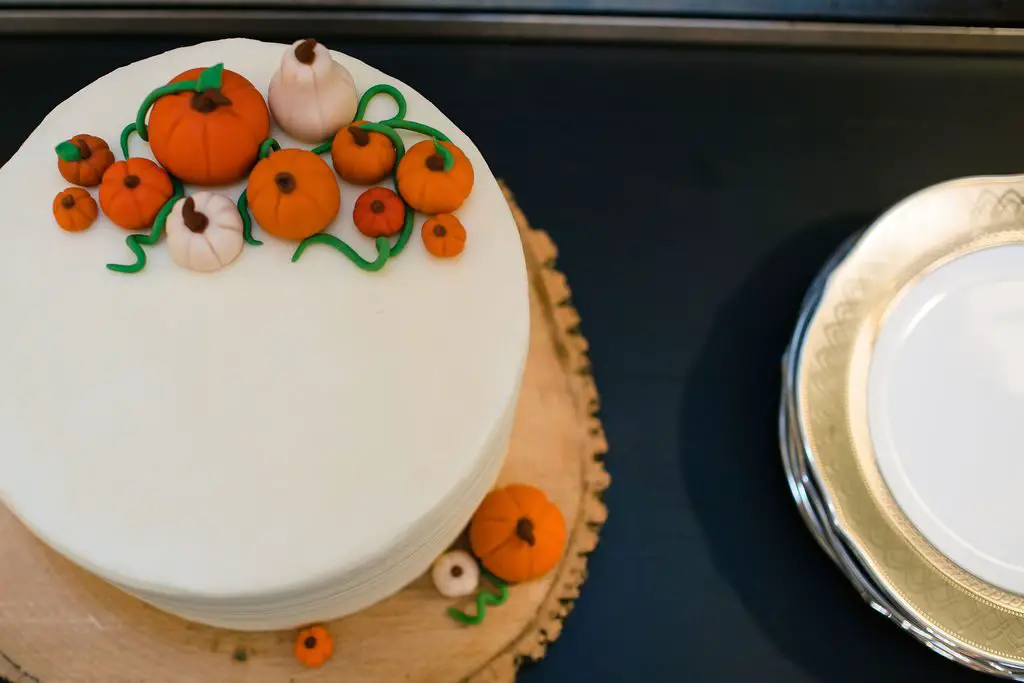 For our ultimate Friendsgiving for No Kid Hungry she made layered Pumpkin Spice cake with a Vanilla Buttercream frosting. It was delicately adorned with darling little pumpkins made of fondant icing. Now, I'm sure you are familiar with that feeling after big Thanksgiving meal, where you are so full you couldn't possibly take another bite! Well, there was not even the slightest consideration of not having a slice of this beautiful cake. And to our pleasure, but not surprise, it was outstanding. Perfectly balanced pumpkin spice cake that was fluffy and moist, with a creamy and not overtly sweetened buttercream frosting. To see more on Stacey's Totally Baked, visit her on Facebook. I would highly recommend having her take on the dessert course at your own Thanksgiving this year!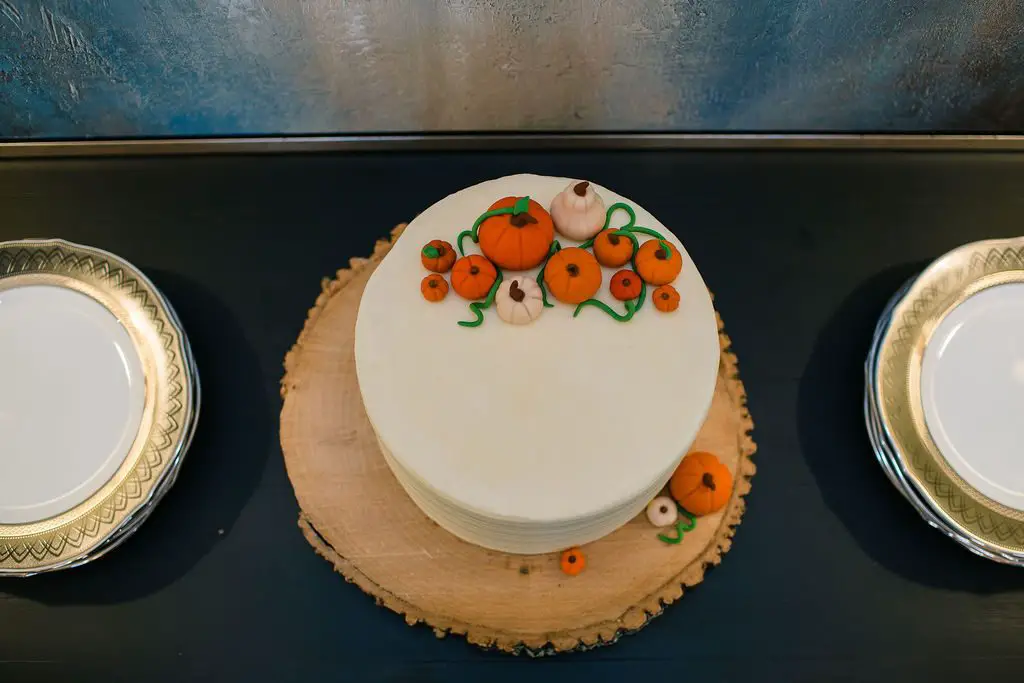 Friendsgiving was a huge success, and really exceeded my expectations in every way. It's very clear to me that it takes a village to host a holiday party and we are very lucky to have a magnitude of very talented individuals here in Ridgefield, CT that can unload some critical tasks off your plate when hosting your own Thanksgiving this year!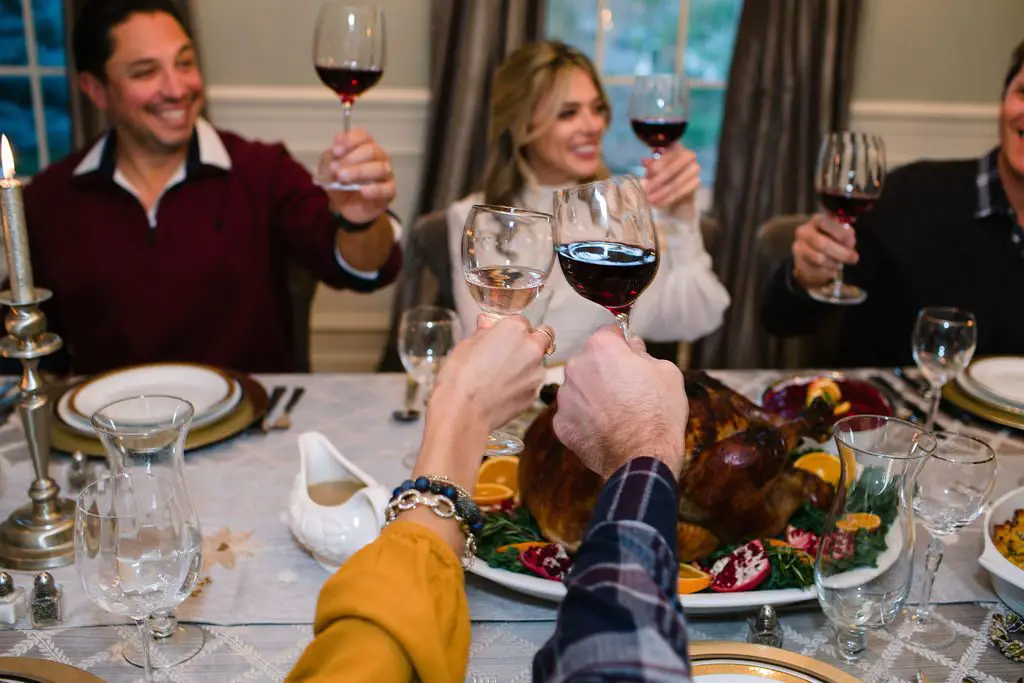 And in the spirit of the holiday season it is so important to seek ways to give back to your favorite charities to support causes that are near to your heart. In my home, there is never any shortage of food or meals and we are so lucky for that. Undoubtedly my children really take for granted the meals that they receive. Which is why No Kid Hungry and their mission really hit a chord with me. The thought of children and families who are struggling for the most basic necessity of nourishment makes me very sad, indeed.
I'm so thankful to every one who already donated to support this cause, and if you are able to give I implore you to please click this link and join me and my cohosts in donating just $10 to support No Kid Hungry. Just $10 can fund 100 meals for hungry children throughout the country!
Happy Thanksgiving to you all! I hope your holiday is filled with joy, laughter and of course AMAZING FOOD!!!