---
Stir Fry is just one of those meals that works, always! It's easy on the clean up, because beside the cutting board you really only need one skillet, and although you need to be a little patient by searing in batches, it's on the table in just about 30 minutes!
In this recipe, I am using Flank steak, broccoli, red onion, red bell pepper and bok choy. Do you want to know why???…. BECAUSE ITS WHAT I ALREADY HAD IN THE FRIDGE! This is the sheer genius of stir fry- use what you want, use what you have and most importantly use what you like!
What Other Proteins and Vegetables Would Work?
If we are talking protein and you are not a red meat fan, as showcase here in this recipe, I recommend using:
Chicken Breast or Boneless Thighs
Shrimp
Scallops
Fried or Scrambled Egg
Pork Tenderloin
Tofu
Tempeh

To switch out the veggies, I think these would work quite nicely:

Cauliflower
Carrots
Bean Sprouts
Baby corn
Mushrooms
Eggplant
Snow Peas
Sugar Snap Peas
How Do I Make Stir Fry?
So here's my visual tutorial of the process!
First start by making your sauce. This is an umami packed rice and savory sauce with just a little bit of sweetness, but if you prefer a flavor that is more teriyaki in nature, add a little extra brown sugar, honey or even pineapple juice!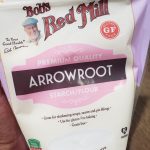 I highly recommend using Arrowroot flour as thickening agent instead corn starch. It's derived from the root of a tropical plant, known as Maranta arundinacea, yeah I can't say it either.. but it's similar to other more well known underground tubers such as cassava or yucca. When arrowroot flour is produced it is extracted in simpler, more traditional methods, without the use of high heat or harsh chemicals. It's naturally gluten-free, grain-free, vegan and paleo-friendly and as more and more people are looking for alternatives to cornstarch, which is usually laden with pesticides and generally comes from GMO, Arrowroot flour is the future folks! Get ahead of the curb!
Now that the sauce is made, prep and slice the Flank steak and vegetables.
Meanwhile, cook your noodles using the instructions on package. If rice noodles, they will most likely need to be soaked in very hot water for a few minutes and then strained.
It's time to heat up some oil in that large skillet or wok and get Stirring and Frying, cause that what we are all here for, isn't that right!?
Once the Bok choy and meat has been seared and is patiently waiting to return to the pan, add your veggies, cook for about 5 minutes and then sauce. Cover to steam and let veggies continue to tender and sauce will boil and thicken. And now.. the moment we've all been waiting for….. reunite all elements to the pan, introduce those naked noodles begging for a coat, toss to evenly combine and serve! This recipe for Flank Steak, Boy Choy and Broccoli with Gluten Free Noodles is 1000x better than take out, and you wont even miss the quintessential white Chinese take out box!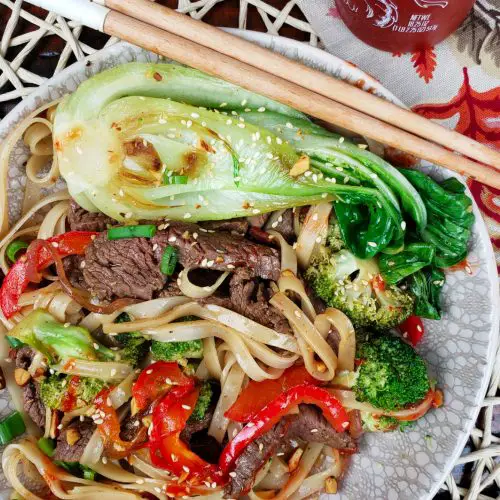 Flank Steak, Boy Choy and Broccoli with Gluten Free Rice Noodles
Flank Steak, Boy Choy and Broccoli with Rice Noodles is protein packed, loaded with vegetables and gluten free- skip the highly processed "Take Out" order and make your own Stir Fry at home! It's easier than you may think!
Ingredients  
1

lb

flank steak

thinly slices, against the grain

1

head

broccoli

cut into small florets

1

red bell pepper

julienne cut

3

whole

bok choy

halved

1

half

red onion

thinly sliced

1

package

Thai rice noodles

wide, pad thai cut

½

cup

tamari sauce

or Soy (non GF)

1

tbsp

fish sauce

2

tbsp

sesame oil

1

tbsp

garlic

minced or pressed

2

tbsp

brown sugar

1

tbsp

ginger

freshly grated

1

tbsp

rice vinegar

1

tbsp

arrowroot starch/flour

or cornstarch

¼

tsp

crushed red pepper flakes

¼

tsp

white pepper
Instructions 
Submerge the rice noodles in boiling water for about 5 minutes, then place them into a mesh strainer to drain. Set aside for later.

Slice Bok choy lengthwise, rinse thoroughly under cold water to remove any grit. Pay close attention to stem and use your fingers to loosen the leaves so dirt rinses away easily.

Combine tamari, fish sauce, brown sugar, garlic, ginger, sesame oil, rice vinegar, arrowroot flour, red pepper flakes, and white pepper in medium sized mixing bowl. Mix and set aside.

Heat 2 tbsp of oil in large skillet or wok over medium high heat. Work in batches to sear flank steak. Do not overcrowd pan-very important! Turning once, about 3-4 min per side. Set aside

Sear bok choy, sliced side facing down. 3 mins, and then flip. Add 2 tbsp water to steam. Water will evaporate and bok choy leaves will be wilted. Set Aside.

If there is any water left in pan, dump out over sink. But there probably wont be, it the heat is high enough.

Heat 1 tbsp oil, add bell pepper, onion and broccoli. Stir to sear veggies, about 5 minutes.

Add the tamari sauce mixture to skillet and let simmer with veggies for 5 minutes to bring to boil. The arrowroot flour will act as a thickener.

Add the steak, noodles and Boy choy. Using tongs, toss to combine. All noodles, veggies and meat should be coated with sauce.

Serve warm and Enjoy!
Notes
Suggested garnish: chopped peanuts, fresh scallions, sriracha sauce
Click ingredient links to have 'Specialty Items' delivered to your house. Those are the brands that I use and recommend
Otherwise, Look in Asian section of your local grocery store to find. 
Nutrition
Calories:
359
kcal
Carbohydrates:
46
g
Protein:
23
g
Fat:
9
g
Saturated Fat:
2
g
Cholesterol:
45
mg
Sodium:
1462
mg
Potassium:
681
mg
Fiber:
4
g
Sugar:
7
g
Vitamin A:
1300
IU
Vitamin C:
116.3
mg
Calcium:
80
mg
Iron:
2.7
mg
If you like this recipe try my: Spicy Shrimp Sushi Stacks or Sticky, Sweet Thai Wings
---