This recipe for chicken noodle soup is wholesome, homemade and nourishing. Using the whole chicken to extract the nutrients needed to cure and comfort whatever ales you.
Ok hypothetical question: Imagine your body is feeling a little run down, whether it be a nasty cold coming on, recovering from an upset tummy, or in the midst of the mental warfare that it requires to get through a long Northern winter… what is the first thing you crave?
A.) Beef and Broccoli Stir Fry
B.) Chicken Noodle Soup
C.) Tuna Casserole
D.) Shot of Tequila
If your answer is (B), then you have found the right place. And if your answer is (D) .. then you might want to speak to someone about.
But all joking aside, let's get down to business, serious business- Chicken Noodle Soup business. Quite possibly the most quintessential healing food in American culture! In fact, the concept of chicken broth used to cure aliments goes back tens of thousands of years.
This recipe includes the all classic staples : carrots, onions, celery, parsnips- but when it comes to the chicken I have a little trick up my sleeve that I use to get the rich, golden savory broth that can only be achieved by using the bone and skin- without the muss and fuss of skimming out the unwanted bits. Do I have the attention of the class? ..ok good..
Easy Homemade Chicken Broth:
I use the WHOLE chicken when I make my chicken noodle soup. If you find a split whole chicken that would be fine too. But in order to truly get the deep, comforting flavor in the broth that we all know and love, you've got to get the bones and skin involved! Yuck – i know.
So my little trick to making this easier is : cheesecloth and butchers twine! If you don't have these items at home already and would just like to go ahead and order this right away here's the link to purchase on Amazon. I use the cheesecloth to reap all the nutrients from the bone and skin, while keeping them wrapped up and easy to discard when soup is ready.

Simply wash the bird under cold water, discard giblets, place on a precut doubled up sheet of cheesecloth, add the herbs on top, sprinkle meat with a little salt and pepper, and bundle it all up like a little satchel. It will simmer in broth and after at least 90 minutes. Then alll you have to do is lift out of water, remove twine to reveal cooked bird, retrieve the meat for the soup and discard the rest. So easy! Also using this method, you will find very little, if any of the impurities that you would be need skimming if making by boiling the chicken without a fine mesh of cheesecloth encapsulated around it. So yeah.. moral of story- get some cheesecloth!
Why Homemade Broth instead of Store bought?
Listen, I'm not judging you. I used the boxed stuff to from time to time, like when a recipe is only calling for a quarter of cup or so. Basically when the stock is not the lead role. In chicken noodle soup, its ALL about the broth! That's what we want, that's what we are craving. So in THIS case, you gotta go real deal. Some studies have shown that the benefits of homemade chicken stock include:
impact on gut health and promotes digestion thanks to the gelatin extracted from bones
anti-inflammatory properties from the amino acid glycine.
beneficial for your skin, hair and nails thanks to proline which aides in the production of collagen.
rich in minerals calcium, magnesium and phosphor.
Meanwhile other studies have shown that the healing effects are mere placebos based on a long standing connection with the medicinal properties from an old folk remedy.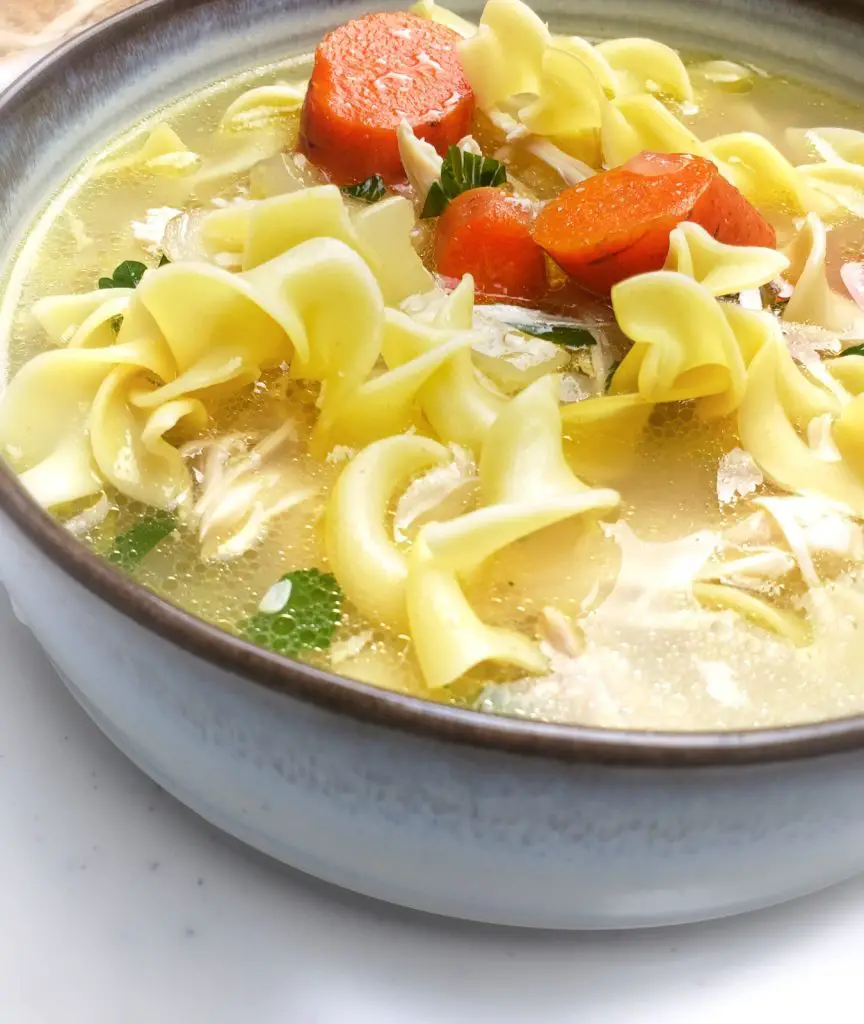 Either way you want to look at it, you can't argue that the flavor is much, much tastier. So for that inarguable fact only, go homemade!
Make Extra!
I have a quart of frozen chicken soup on hand, at all times! You never know when someone is going to get sick and need a little extra lovin'. This recipe is great because should give you at least one, possibly two extra quarts of soup for your freezer. I say "should" because I guess the leftovers are really subject to the amount of people you are feeding in the first place.
To freeze, you want to let the soup cool at room temperature before putting in your freezer containers. As a rule of thumb, you never want to put hot liquids into plastics. Also, it's important to note that you don't want to add noodles to the soup destined to be frozen. It just doesn't reheat well, all mushy… it's just a no- trust me. The frozen soup will be maintain it's quality for 4-6 months as a general recommendation. After that, it would be safe to eat if it had always remained below 0 degrees in your freezer, but I can't vouch for the flavor beyond that point.
I know it may seem chicken soup from scratch is a bit daunting, but really its not too much work and the flavor is just unbeatable!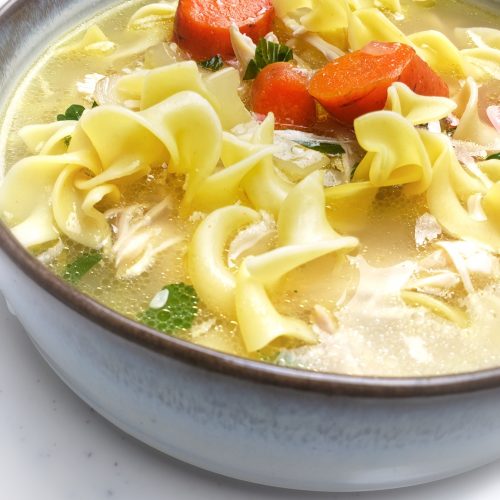 The Coziest Chicken Noodle Soup
This recipe for chicken noodle soup is wholesome, homemade and nourishing. Using the whole chicken to extract the nutrients needed to cure and comfort whatever ales you.
Ingredients  
2

tbsp

olive oil

4

carrots

sliced or diced

3

celery stalks

sliced or diced

2

parsnips

sliced or diced

1

large yellow onion

diced

garlic cloves

minced

1

whole chicken

fresh parsley and rosemary

bunch

1

tbsp

salt

or to taste

½

tsp

pepper

or to taste

2

tbsp

apple cider vinegar

8

oz

wide egg noodles

half the bag
Instructions 
Chop and dice vegetables. Heat large stockpot and add olive oil. Add vegetables to saute' for 5 minutes.

Remove packaging from whole chicken and discard giblets. Rinse chicken under cold water

Transfer bird to cutting board, measure amount of cheese cloth needed to wrap chicken up with tie at the top and cut to appropriate size. Place fresh herbs on chicken, sprinkle meat with salt and pepper, and wrap the whole bird and herbs inside the cheese cloth. Tie with butchers twine to secure.

Place wrapped bird inside stock pot with sauteed veggies add about 5 quarts of water, salt, pepper and vinegar. Bring to boil and then set to low heat cover and simmer for at least 1 hour and 30 minutes. When it's ready you will know! Water will look like golden broth.

Using tongs and large spoon, to remove from stock pot. Place chicken in large mixing bowl. Cut string to remove twine and open cheese cloth. Let cool off for a few minutes before using fork remove the meat and place in separate mixing bowl. Decide if you want to use both white and dark meat, discard of bones and skin.

If necessary skim off any impurities from the top of soup, however you may have none if bird was wrapped securely. Return meat to soup and taste broth, adjust salt and pepper according to preference.

Boil egg noodles in separate pot and divide noodles into bowl and ladle hot soup over top. Garnish with fresh parsley and serve.
Notes
Nutrition Facts are estimates. 
Recipe can be made in slow cooker or instant pot:
For slow cooker, follow all directions but heat on low for 6 hours or high for 4
For Instant pot, follow all directions but cook on "soup" setting and let it natural release. 
Nutrition
Serving:
12
oz
Calories:
474
kcal
Carbohydrates:
63
g
Protein:
22
g
Fat:
15
g
Saturated Fat:
3
g
Cholesterol:
84
mg
Sodium:
1846
mg
Potassium:
789
mg
Fiber:
8
g
Sugar:
9
g
Vitamin A:
10286
IU
Vitamin C:
19
mg
Calcium:
80
mg
Iron:
2
mg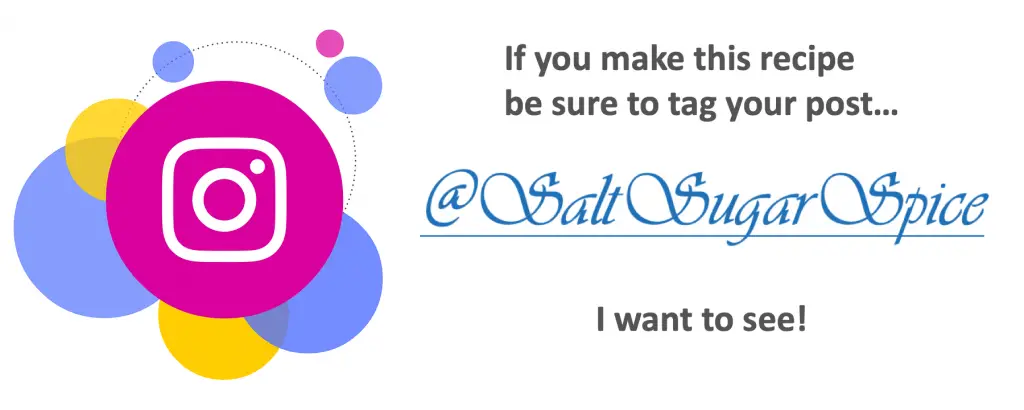 ---