If you speak as much French as I do, which is almost "nein", then you will need me to translate here- Beurre Blanc means "white butter". Which is a great way to describe, as there is butter, butter and more butter in this sauce. It's defined as a hot emulsified butter sauce, which begins by reducing an acid, white wine or vinegar, with shallots. In this recipe, I've added a cream as a stabilizer, although many recipes will have you omit it. 
Cold, one-inch cubes of butter are then gradually incorporated into the sauce as the butter melts and the mixture is whisked the small amount of emulsifiers naturally found in butter are used to form an oil-in-water emulsion. It's pretty similar to a hollandaise sauce, but no eggs are used.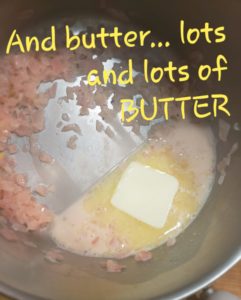 If you do it right beurre blanc is rich and buttery, and best of all versatile. I like to add seasoning and herbs that compliment the protein that I'm making the sauce for. It should be light and airy with a viscosity that is thick enough coat a spoon and to cling to food.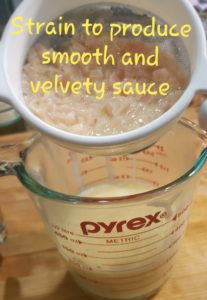 I found this article that I found very helpful in understanding the principle concept, https://www.saucemagazine.com/a/843 if you're nerdy foodie like me, perhaps you may want to read it.
If not, just make the sauce, lick the spoon and smile!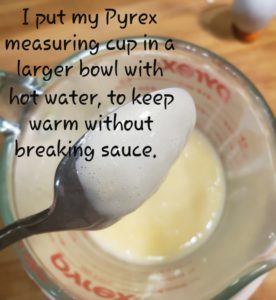 *Delicious with chicken, scallops, shrimp, fish, lobster, crab meat or roasted vegetables*
PREP TIME: 5 mins
COOK TIME: 10 mins
TOTAL TIME: 15 mins
AUTHOR: Brenda Lanzilli
SERVINGS: 1 cup of sauce
Ingredients:
1/2 cup dry white wine
2 tablespoons lemon juice
2 tablespoons heavy cream
2 teaspoons minced shallots,
1 cup cold unsalted butter, cut into 1-inch cubes,
salt and pepper to taste
Method:
Pour wine, lemon juice, shallots in a saucepan,  with a pinch of salt and pepper (or any other spices you may want to add)
Bring to a simmer over medium- high heat, once you reach boil reduce medium. Let simmer until liquid is reduced by about 75%, it should take about 5 minutes.
Reduce heat to low add cream and begin to gradually add butter a cube or two at a time, whisking continuously so butter emulsifies into the wine/lemon juice mixture. Once all the butter has been added, the sauce should be thick, and velvety.
Remove from heat.
Taste and adjust seasoning to your liking.
Strain through fine mesh to remove shallots.
Serve immediately, or keep warm until ready to use.