Chicken Parmesan, AKA "Chick Parm" if you're one of those people who orders it so often you have such a sense of familiarity that you have endearingly nicknamed it, is apparently one of the top 5 most googled recipes! I know because, I checked! So since the demand is so high, I'm here to supply you with my own lighter version.
The interpretations are varied of course, and in my recipe I've swapped out the thick and concentrated traditionally heavy gravy for a lighter sauce, which evokes the flavors of a refreshing caprese salad. It pairs beautiful with a side of angel hair pasta, a sautéed vegetable of choice, and a crisp, dry Pino Grigio. Preferably enjoyed on a veranda somewhere along the Almafi coast, but if you're pressed for time- your kitchen table will do!  
Begin with making a chopped bruschetta of sorts.. Dice Campari tomatoes, fresh basil, garlic, olive oil, balsamic vinegar and salt/pepper. But it aside to work on the chicken breasts
Using the standard breading 1,2,3 method, fill three shallow dishes with flour, egg, and a breadcrumb/grated Parmesan cheese mixture. Prepare chicken by thinly slicing breasts in half, seasoning with salt and pepper and breading each cutlet-1) flour 2) egg 3) breadcrumb. Working in batches so not to overcrowd the oven safe, stainless steel pan, sear each cutlet till golden brown. Adding olive oil intermittently throughout, so pan never gets dry and cutlets are frying and not sticking to the pan.
Transferring seared cutlets to plate, and turn down the heat. Deglaze pan with a dry white wine. Cook wine for a few minutes and then add the diced tomato/basil , simmer for about 5 minutes. Return cutlets to the pan, nestled into the tomatoes, top with fresh mozzarella cheese and finish off in oven set to 400 degrees for 15-20 minutes.

---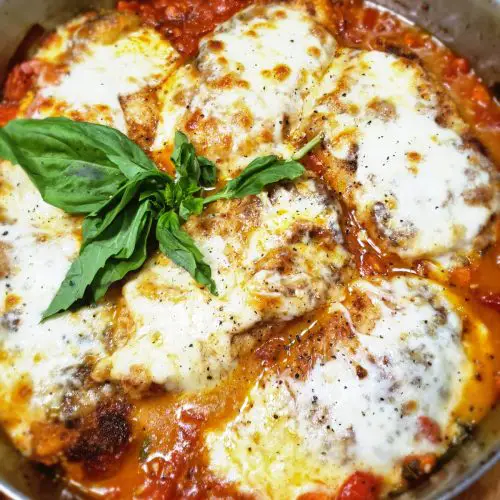 Chicken Parmesan in a Light Caprese Broth
Ingredients  
For the Tomato Broth
3

cups

Campari tomatoes

diced

¼

cup

basil

julienned

1

tbsp.

garlic

minched, about 3 cloves

1/8-

cup

olive oil

extra virgin

2

tbsp.

Balsamic Vinegar

½

tsp.

kosher salt

¼

tsp.

pepper
For the Chicken
2

lbs.

boneless

skinless chicken breast seasoned with salt and pepper

½

cup

flour

3

eggs + 1/8 cup water

1-

cup

breadcrumbs

¾

cup

Parmesan cheese

grated

⅓

cup

white wine

1/3-

cup

olive oil

divided

12

slices

fresh mozzarella cheese

½ inch thickness
Instructions 
Preheat oven to 400 degrees.

To make the Caprese tomato broth, combine diced tomatoes, basil, minced garlic, oil olive, balsamic vinegar, and salt and pepper in medium sized mixing bowl. Set aside.

Prepare the dredging station. Using 3 shallow dishes, fill one with flour, the other with beaten eggs (add 1/8 cup of water and a pinch of salt and pepper) and the other with a mixture of breadcrumbs and grated Parmesan cheese.

To prepare your chicken breast, use a very sharp filet knife, place one hand flat on top of the breast to hold it steady, cut lengthwise through the middle starting your incision in the thicker end. Watch your angle and try to cut the breasts evenly. Repeat process until all are sliced and then season each raw cutlet with salt and pepper (*always season your meat before cooking!)

Transfer chicken near your prepared dredging station, create an assembly line of breading: the chicken will move down the line in this order' flour, egg, breadcrumbs, clean plate, repeat. Once all your chicken is breaded, you are ready to saute' cutlets

Heat olive oil in oven safe stainless steel skillet over medium high heat. It will take a few minutes to get hot. You can test it by putting a little breadcrumb into the oil of the pan, if it starts to sizzle, you are ready to go.

Working in batches to enable even heat distribution and therefore even searing. You will need to add olive oil to the pan several times over the course of the searing, it will work out to about 1/3 cup total, figure using about a tbsp. of olive oil per chicken cutlet. Once all are seared, set aside on clean plate.

Turn heat to low and wait at least 3 minutes before adding the wine to pan to deglaze. If you add while pan is still very hot, there will be a lot of spattering.

Once wine is added scrape any brown bits from bottom of pan. Cook wine for 3 minutes, until alcohol smell has dissipated.

Add the diced tomato mixture to the pan and let simmer 5 -7 minutes.

Return breaded cutlets to pan and nestle in the tomatoes.

Cover each cutlet with 2 fresh mozzarella cheese slices and let finish cooking in oven.

About 15-20 or until meat thermometer reaches internal temperature of 165 degrees. If your mozzarella hasn't browned by then, you can bump up to broil for 1 min (don't take your eyes off ito get a bubbly golden brown.

Serve immediately and enjoy!
---