I said it before and I'll say it again, "sneaking veggies" into dishes is the easiest way to indulge in the naughty foods you want to eat by cutting their high carb or high caloric content and replacing with healthier ingredients that are rich with nutrients. In fact, naming this recipe mashed potatoes at all is kind of a stretch because it really is mostly cauliflower! You wouldn't guess it off the bat though because the tastes like the real deal. Fluffy, creamy, savory, buttery, and then top it off with crispy bacon and cheddar cheese, you got yourself a cheat meal that isn't actually cheating! And because the best type of potato is a loaded baked potato, I incorporated bacon, chives, greek yogurt (or sour cream) and cheddar cheese!
Make them even "skinnier" !
Omit the potatoes all together- this will give you a thinner consistency, but if your looking to make this with less carbs, its definitely doable. You will need to use more cauliflower though in this case if you still want it to serve 6.
Omit the Bacon… I meannn.. you could… but why!?
Use Greek yogurt instead of sour cream. I pretty much always substitute Greek yogurt in place of sour cream because it's a staple item in my fridge AND it provides added protein, few calories and no saturated fat.
Use a low fat cheese, or no cheese at all.. but again .. why!?
Break it Down for Me!
First off, let's start with the bacon. Turn on the oven to 425, line a baking sheet with aluminum foil (for easier clean up) and bake for about 10-12 minutes until crispy. Remove from oven and let cool on paper towel line plate to soak up the grease.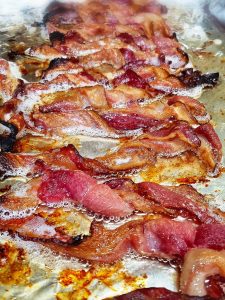 Meanwhile, saute' the cauliflower which could be cut into florets or riced. It doesn't really matter because once the cauliflower has been softened and cooked though, it must be transferred to the food processor to make the puree. Add a bit of salt and pepper to taste here and set aside.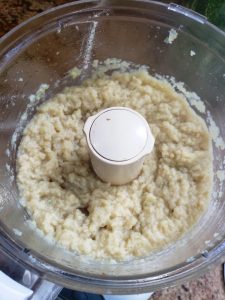 Next, place quartered potatoes in pot of water and bring to a boil. Skin on or off is totally up to you, however I do like to leave them on as there is a lot of good nutrients in the potato skins! Boiling should take about 20-25 min. I suggest having this going while the bacon is in the oven and while you are working on the cauliflower puree. Once potatoes are easily pierced through with a knife, drain the water melt butter in pot, add potatoes and mash. Gradually add in milk and greek yogurt. Fold in cauliflower puree, chives, cheddar cheese, salt and pepper. I like to leave the chopped bacon as a topping so it stays crispy- but you could mix it in if you like.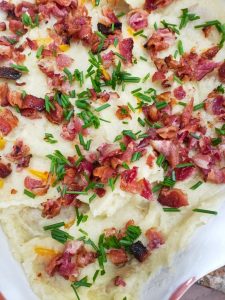 If you are preparing ahead of time, like I was, simply transfer to a baking dish and reheat in oven at 400 for 20-25 minutes until top is golden brown. In this case I would definitely leave bacon for topping and perhaps even add some more cheese to be melty on top!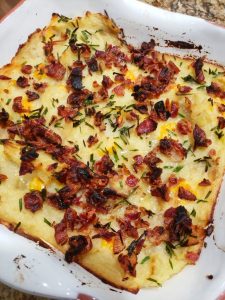 "Skinny" Cauliflower Mashed Potatoes
Cauliflower puree is loaded up with this healthier take on mashed potatoes! No one could even tell the difference at my table! Fooled them all..
Ingredients  
16

oz

cauliflower puree

1

lb

yukon gold potatoes

about 2 medium sized

1

tbsp

olive oil

1

shallot

chopped

7

slices

bacon

crispy and chopped

1/4

cup

2% milk

2

tbsp

chives

1

tsp

salt

1/2

tsp

black pepper

3

oz

cheddar cheese

diced or shredded

½

cup

Greek yogurt
Instructions 
Preheat oven to 425° and line baking sheet with aluminum foil for easier clean up.

Add 7 slices of bacon (or more if desired) and cook for about 10 minutes until crispy, remove from oven and let bacon cool on plate lined with a paper towel.

To prepare cauliflower, remove stem from cauliflower head and cut into florets. Or use prepared bag of cauliflower florets or riced.

Saute' cauliflower with olive oil and shallots for about 5-7 minutes, until cauliflower has softened and shallots are translucent.

Remove from heat and add to food processor to puree. Set aside.

Quarter potatoes and place in pot of water and then bring to a boil. Boil for 20-25 minutes or until knife can easily pierce potato. Drain water.

Melt butter in pot. Add potatoes and mash. Gradually add milk and yogurt. Fold in cauliflower puree. Add scallions, cheese, salt and pepper. Top with chopped bacon bits and serve.

Making in advance, transfer to baking dish and reheat in oven at 400° for 20 minutes or until top is golden.
Notes
*Nutrition Facts are estimates. 
Nutrition
Calories:
266
kcal
Carbohydrates:
16
g
Protein:
12
g
Fat:
18
g
Saturated Fat:
7
g
Cholesterol:
33
mg
Sodium:
687
mg
Potassium:
654
mg
Fiber:
4
g
Sugar:
3
g
Vitamin A:
205
IU
Vitamin C:
46
mg
Calcium:
172
mg
Iron:
3
mg