If there ever was a breakfast that was worth the calories, I do believe that this would be it! And how does this French Toast Bake manage to remain rich and custardy on the inside while still crispy and crunchy on the outside, is nothing short of pure magic. I understand how extreme that sounds, I do.. the thing is I literally just finished eating this for brunch and I'm in a state of absolute euphoria! This recipe for "Bake Croissant French Toast with Cinnamon Brandy Apples" is perfect for special occasions where you really want to knock your guests' socks off- or you could make it on a random Saturday for no apparent reason at all… either way, would you please just do me yourself a favor and MAKE THIS RECIPE, it's going to go down as one of your favorites. I am quite certain!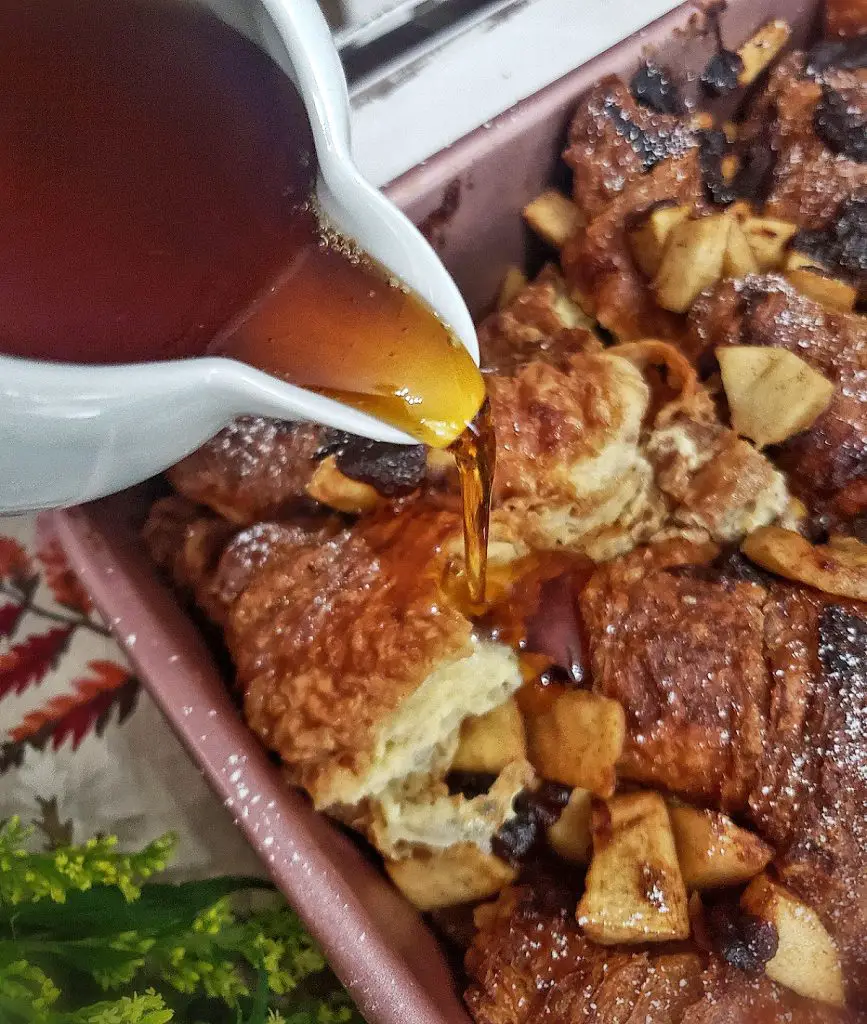 Start by halving croissants, I just went to Costco yesterday so I had a large clamshell of croissants just begging for some attention! Next peel 2 apples, I used Gala and they were on the larger side, so if they are small apples you might want to use 3. Core and dice the apples, place in mixing bowl with brown sugar, cinnamon, a pinch of cloves and Brandy or a Cognac. Granted Cognac is Brandy.. but not all Brandy is considered Cognac. I know that's a bit confusing, if your curious about this you can read more about it from this article on Thrillest.com, if not, know that I used Courvoisier because that's what I had in my liquor cabinet. Moving along..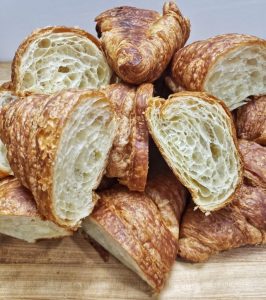 Set those fancy apples aside and start on the egg/milk mixture. Whisk 6 eggs with 1 1/2 cup of whole milk, 2% or milk substitute. In fact, I didn't have any milk in the house this AM, only almond milk. I had to choose between a can of reduced fat coconut milk and the almond and I went with coconut, I figured it would contribute a richer, sweeter flavor than the almond milk. I don't know how it would have tasted with the almond, but I was definitely not unhappy with the decision to use coconut milk! It's up to you.. Add a little vanilla, salt, maple syrup and cinnamon to the milk and whisk away.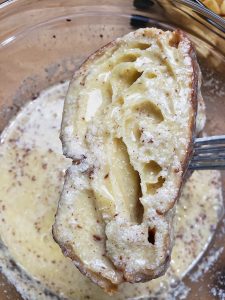 Prepare a 9×13 non stick baking dish, by lightly greasing bottom with a thin swipe of butter. Begin dunking the croissants into the egg/milk mixture. Let them soak it up a bit, then arrange in the baking dish. I like the look of pretty little neat rows, but you could arrange more randomly if your looking for a more rustic feel. Repeat process until all croissant are dunked. Add any remaining egg/milk to the baking dish.
Next arrange apple the cinnamon brandy apples on top, preferably in the little valleys between the croissant peaks. Then dollop some spoonfuls of apple butter on top gently spreading with the back of the spoon to gain a bit more "square footage" of apple butter real estate. Next top with thin slices of butter and a little sprinkle of cinnamon. Let rest for at least 30 minutes before baking, or set in fridge overnight if preparing in advance.
Now who doesn't love a breakfast/brunch that can be prepped in ahead of time!?
Not this girl!

Baked Croissant French Toast with Cinnamon Brandy Apples
This Baked Croissant French Toast is decadent, rich and custardy on the inside while still crispy, flakey and crunchy on the outside. It's nothing short of pure magic!
Ingredients  
8

croissants

6

eggs

13.5

oz

reduced fat coconut milk

or regular milk

1

tbsp

vanilla extract

2

tbsp

maple syrup

1

tsp

kosher salt

2

apples

peeled, cored and diced

2

tbsp

brown sugar

2

tbsp

brandy or cognac

i used Courvoisier

1½

tsp

cinnamon

(divided)

3

tbsp

butter

thinly sliced

¼

cup

apple butter

or preserves
Instructions 
Halve croissants and set aside.

Combine 6 eggs, coconut milk, vanilla extract, kosher salt, maple syrup, 1 tsp cinnamon in medium sized mixing bowl. Whisk and set aside.

Peel, core and dice apples. Mix with brown sugar, ground clove, ½ tsp cinnamon and brandy/cognac. Set aside.

Prepare 9×13 baking pan by lightly buttering bottom.

Dunk 1 by 1 or 2 by 2 croissants into egg milk mixture and arrange in baking dish. Repeat process until all croissants have been used. Add remaining milk/eggs to baking dish. Arrange apples on top of croissants and sprinkle with cinnamon. Let sit at least 30 minutes before baking.

Place baking dish in lower half of the oven so avoid burning croissant tops.

Bake uncovered for 40-45 minutes. Remove from oven, serve with fresh whipped cream and high quality maple syrup.
Notes
Nutrition Facts are estimates 
Can be prepped in advance- refrigerate overnight and bake in the AM 
Apple jam or preserves can be substituted for apple butter, however that will be sweeter- I prefer the slight tartness of apple butter. 
I suggest serving with fresh whipped cream and maple syrup, although fresh berries and a sprig of mint would be a nice touch as well
Nutrition
Calories:
435
kcal
Carbohydrates:
45
g
Protein:
9
g
Fat:
23
g
Saturated Fat:
14
g
Cholesterol:
172
mg
Sodium:
685
mg
Potassium:
181
mg
Fiber:
3
g
Sugar:
21
g
Vitamin A:
760
IU
Vitamin C:
2
mg
Calcium:
56
mg
Iron:
2
mg
---