Crispy Polenta Fries are THE. MOST. addictive little rectangles you'll ever meet, and I'm very certain this claim is 100% accurate!
So if you know me on personal level, you may have noticed that I never am able to resist this side/appetizer when I spot on the menu when dining out! It's like a thing. Listen- I've come this far plagued with my obsession, and I'm not stoppin' now!
Therefore recreating this dish in my home just seems like a natural progression! And trust me when I say- it's easy as pie.. polenta pie! Aha, wait…that gives me an idea!
As much as I love Polenta as a side, or hell, even a main course, Polenta fries are a great party appetizer, too! (1)They can must be made ahead of time, so that's always a bonus (2) your guests will not require a plate, knife or fork (3) they are just as tasty when they have cooled down a bit and (4) they usually work for everyone because they are vegetarian (if you omit the chicken stock, which is no biggie) and Gluten Free!
A dipping sauce on the side is a nice little touch as well. I chose to make a fresh San Marzano tomato sauce, but an Aioli works really well with polenta fries too!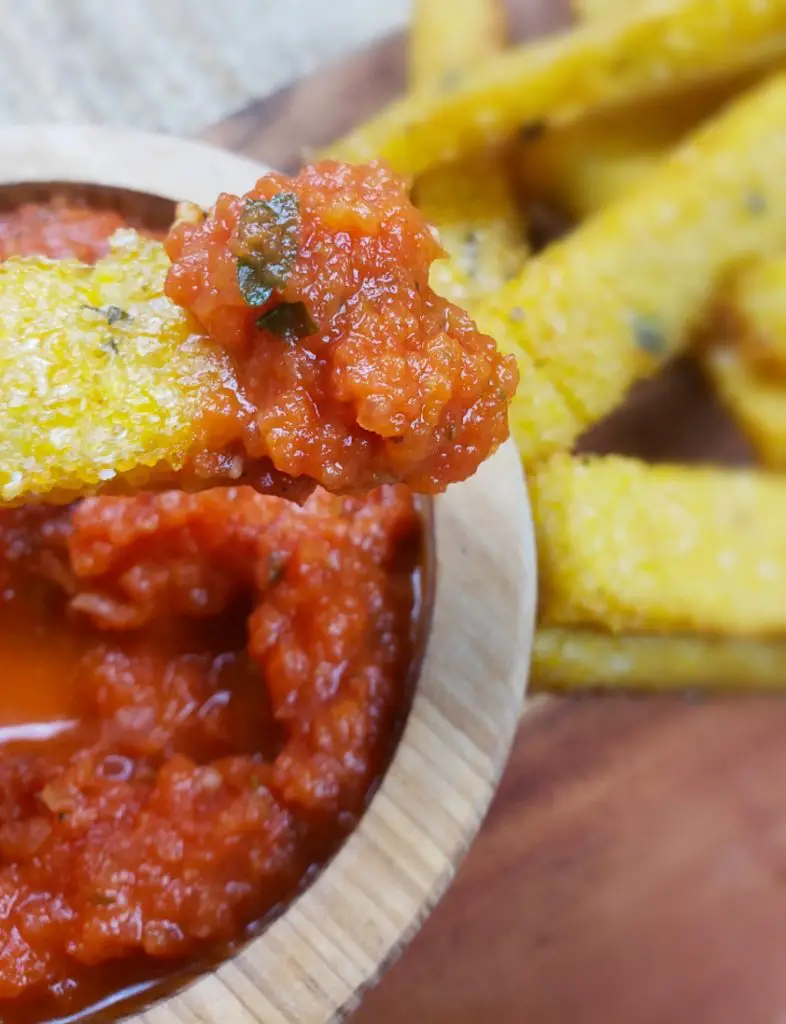 So let's get down to the nitty gritty here:
First you are going to to need to make the polenta. And it's really important that you use coarse grind. If you use finely ground, as if for baking, the fries won't hold together as well. Here's a picture and link to my favorite brand on Amazon Prime:
You will need to bring, bring 6 cups of water or chicken stock to a rapid boil in a medium to large-sized sauce pan. Much like making grits- polenta is very spattery (idk if that's a word, but its accurate) so I really recommend using a pot that's on the larger side to give you a little distance! For extra flavor, I like to saute' garlic and oil in the pan before adding they water. The garlic oil infuses with the cornmeal as it simmers. Once the water is boiling, slowly whisk in 1.5 cups of polenta in an even stream. Continue whisking for two minutes. Reduce heat to medium low and cook, stirring occasionally to prevent the polenta from sticking to the bottom of the pot and lumps from forming, until super smooth and creamy, about 20 minutes. Remove from heat and whisk in 2 tablespoons unsalted butter, ½ teaspoon kosher salt, and ½ teaspoon black pepper, about 1/4 cup chopped parsley and 1/4 cup of Romano cheese.
Remove Polenta from heat and line a shallow baking sheet with parchment paper. Put a little olive oil on the pan to keep the parchment paper from sliding around. I recently purchased this baking sheet with cooling rack set and I'm really loving it! It's larger than most my cookie sheets/baking sheets, stainless steel without any artificial coatings, and a cinch to clean. Here's the link, if you wanna get like me!
Carefully pour the polenta on to aforementioned baking sheet, smooth out top with spatula and make sure you bring the polenta to the edges and corners. You are looking to create one even surface. Place in fridge and let cool and set for about two hours. If you have a large freezer that they tray will fit in, you can speed up cooling time and let chill out in freezer for about 30 minutes to 1 hour.
Once Polenta has set, using the overhanging parchment paper, carefully lift out of baking sheet and set on cutting board where you will cut into uniform rectangles of approximately 1×3 inches. Return polenta fries to parchment lined baking sheet (go ahead and use the same piece) and drizzle with olive oil and Parmesan/ Romano cheese and bake in preheated 415 degree oven for 15 minutes, take out, flip over and bake the other side for another 10-15 minutes. You are looking for just slightly golden brown crispy edges.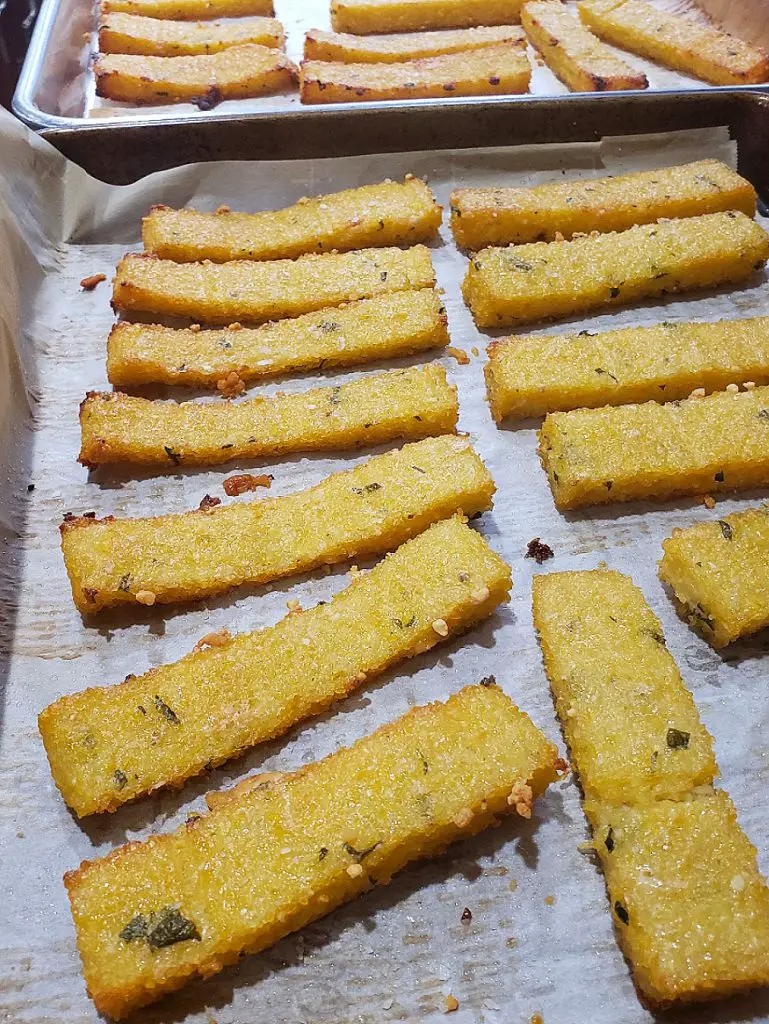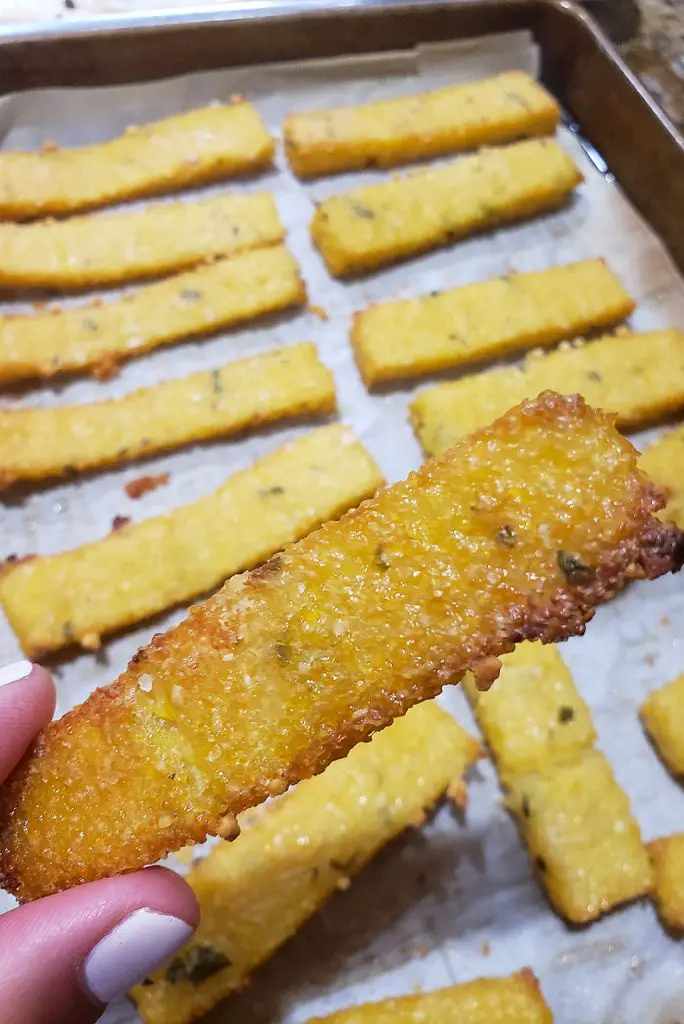 Arrange Polenta fries as skillfully as you dare on serving tray with your dipping sauce of choice, sit back, and watch as they begin to disappear into the mouths of your appreciative friends! Congrats, you are a hero!!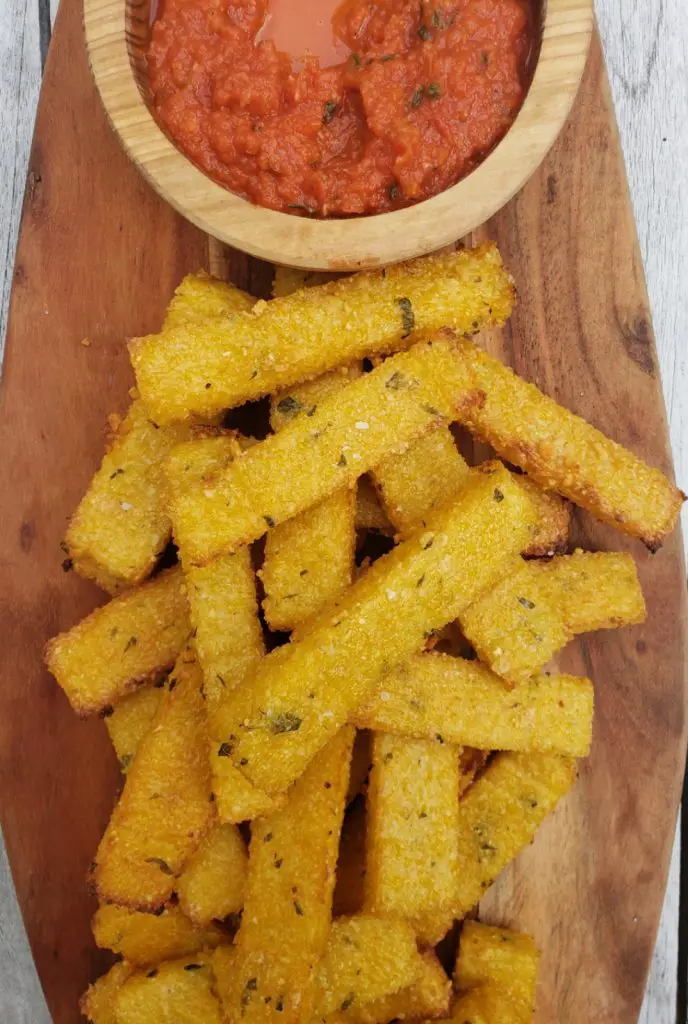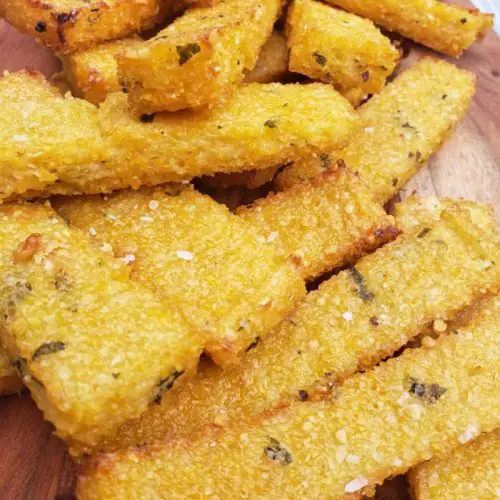 Crispy Polenta Fries
Perfect party appetizer for any occasion! Crispy, savory and gluten free- these oven baked polenta fries are a finger food that will go the distance!
Ingredients  
1½

cup

polenta course grind

organic

6

cups

water or chicken stock

2

clove

garlic minced

2

tbsp

olive oil

2

tbsp

butter

1/4

cup

Romano cheese grated

2

tbsp

parsley leaves fresh

chopped

2

tsp

salt

if using chicken stock, start with 1 tsp and adjust salt if needed

1/2

tsp

pepper
Instructions 
Over medium high heat, add 2 tbsp of olive oil to sauce pan. Let saute' for less than 1 minute, careful not to burn.

Add 6 cups of water or chicken stock and 2 tsp salt and bring to a boil.

Gradually whisk in the polenta. Turn heat low and continue to whisk intermittently while the polenta cooks. About 15 minutes.

Remove from heat, add butter, parsley, pepper, grated cheese, and more salt to personal preference. Combine, cover and let stand for 5 min.

Prepare baking sheet with layer of parchment paper.

Using a rubber spatula, spread polenta onto baking sheet. Guide polenta to all edges and make one even layer. Refrigerate for at least one hour to set.

When ready to bake, preheat oven to 415 degrees and adjust rack to middle of oven

Remove baking sheet from fridge and carefully lift edges of parchment, without breaking polenta, and transfer to cutting board. Using a pizza cutter or pastry wheel (or knife, if you don't have either tool) slice into approximately 1×4 inch rectangles.

Place rectangles in a single layer onto parchment lined baking sheet. *Leave a little space between each one, so you are able to flip midway. Drizzle or spray with olive oil and a pinch of grated cheese and place in oven.

Bake for 15 minutes on one side, until edges are just slightly browned. Remove from oven and gently flip over, return to oven and continue to bake for another 15 minutes.

When desired crispness is reached. Remove from oven and serve warm with dipping sauce of choice, or none at all!
Notes
Nutrition Facts are estimates
Nutrition
Serving:
3
fries
Calories:
121
kcal
Carbohydrates:
16
g
Protein:
2
g
Fat:
5
g
Saturated Fat:
2
g
Cholesterol:
7
mg
Sodium:
436
mg
Potassium:
31
mg
Fiber:
1
g
Sugar:
1
g
Vitamin A:
164
IU
Vitamin C:
1
mg
Calcium:
28
mg
Iron:
1
mg
If you like this Recipe, you may also enjoy: POLENTA WITH SWISS CHARD AND BABY BELLA MUSHROOMS , SPICY SHRIMP SUSHI STACKS, or SPICY CHIPOTLE AND WHITE BEAN DIP
---