Warm and cozy homemade apple fritters wrapped in a light airy chai-spiced batter, delicately fried for a golden crunchy exterior and a soft doughy center. The perfect treat on a brisk autumn morning!
I'm crushing so hard on Fall right now!
All things apple, pumpkin, cinnamon.. just send them all my way. I'm ready!
And so, to absolutely no one's surprise, I already checked off one of my boxes on the obligatory "Fall Must-Do List" and went apple picking with my family last weekend!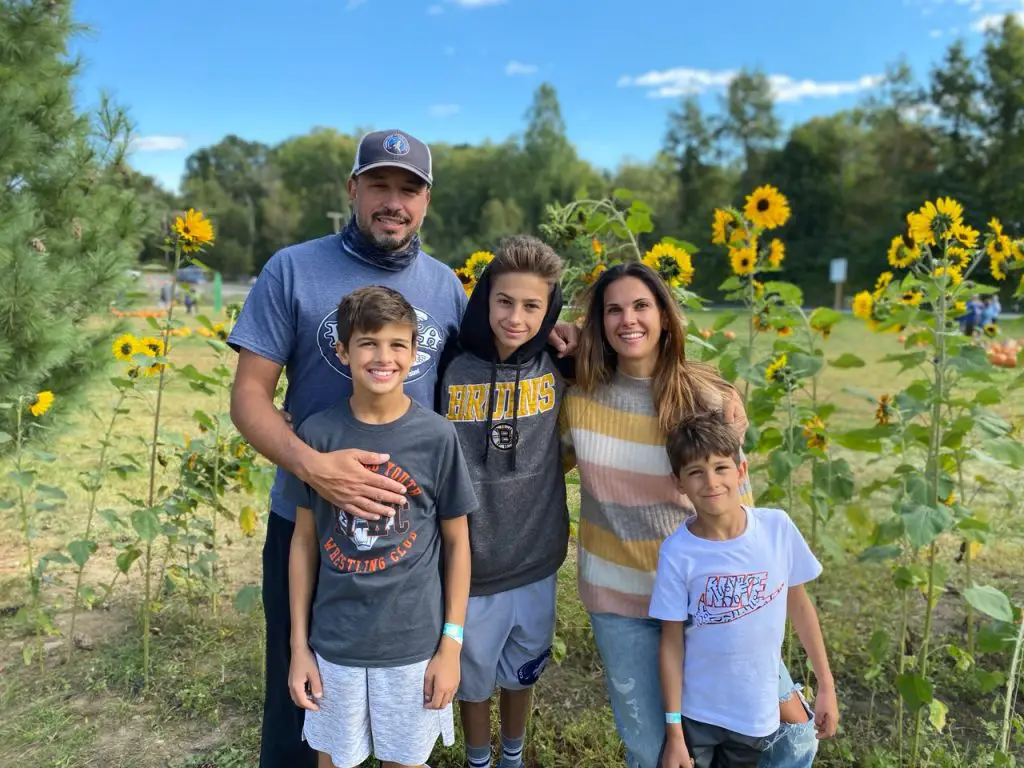 And just like everyone else who comes home with a heaping bounty of hand-selected and overpriced apples, I was lead to the infamously popular Google search, "what to make with apples"
Reminiscent upon favorite apple-filled recipes of the past, like my EASY & OLD FASHIONED EASY APPLE CRISP RECIPE or this decadent breakfast delight, BAKED CROISSANT FRENCH TOAST WITH CINNAMON BRANDY APPLES.
Ultimately I decided to go with something NEW and fried- freaking-tastic, because in the season of high waisted leggings and oversized sweaters- anything goes!
Ingredients for Chai-Spiced Apple Fritters with Vanilla Glaze
You will need just a few pantry staples to make these apple fritters! You are going to be shocked how easy this is!
Baking Powder
Chai Spice: Cinnamon, ginger, nutmeg, cardamom (*if you want a stronger chai flavor add a tiny pinch of allspice and cloves)
Sugar (both granulated and powdered)
Salt
Eggs
Unsweetened apple sauce
Buttermilk
Whole Milk
Vanilla Extract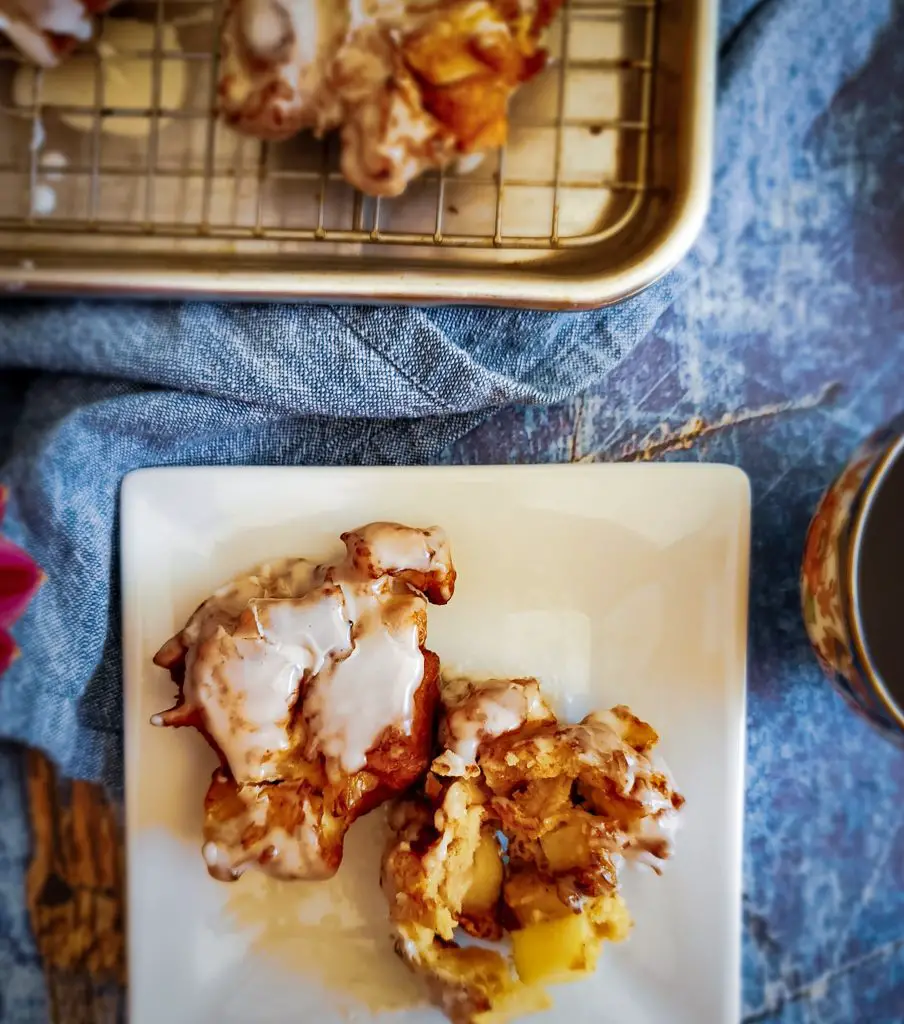 Tips for Apple Fritters Success!
Don't over mix batter! Any time you are working with flour and wet ingredients, you need to make sure that you don't overwork the gluten in the flour, which will leave you with a dense undesirable texture.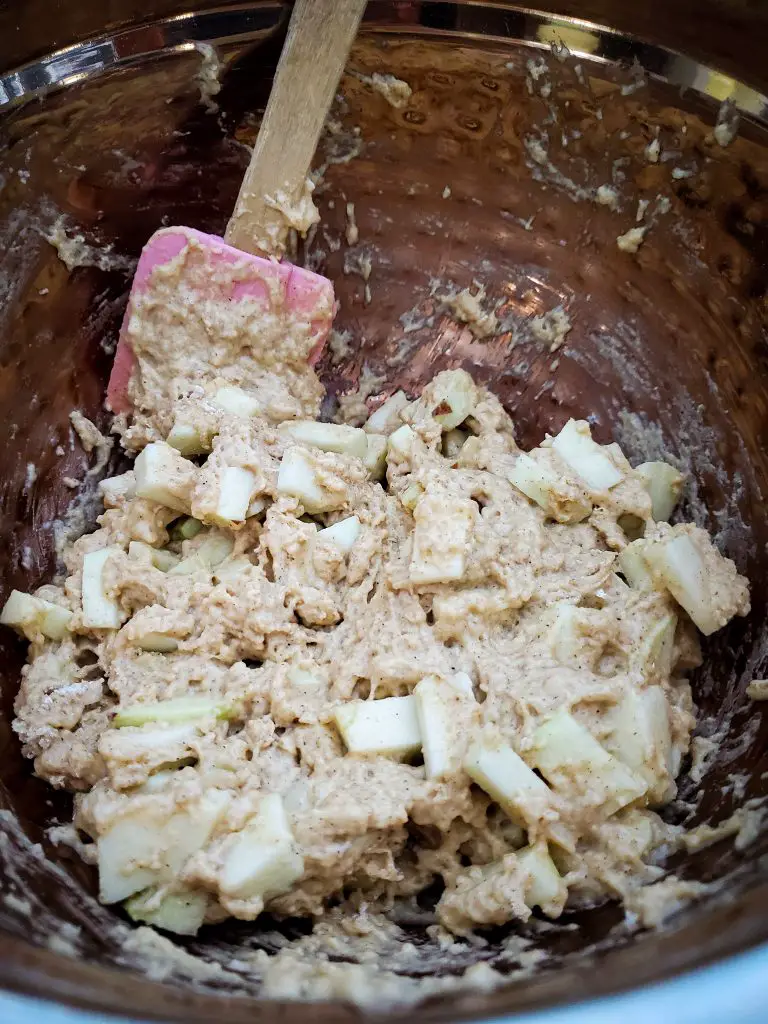 Use a candy thermometer or digital meat thermometer to track the frying temperature. You want to make sure that the outside is not browning faster than the inside can cook. I recommend checking your first "test" fritter for doneness before frying the rest. Ideally, you will want a temperature that ranges from 350-375 degrees in order to give the fritters a golden brown outside and fully cooked fluffy center.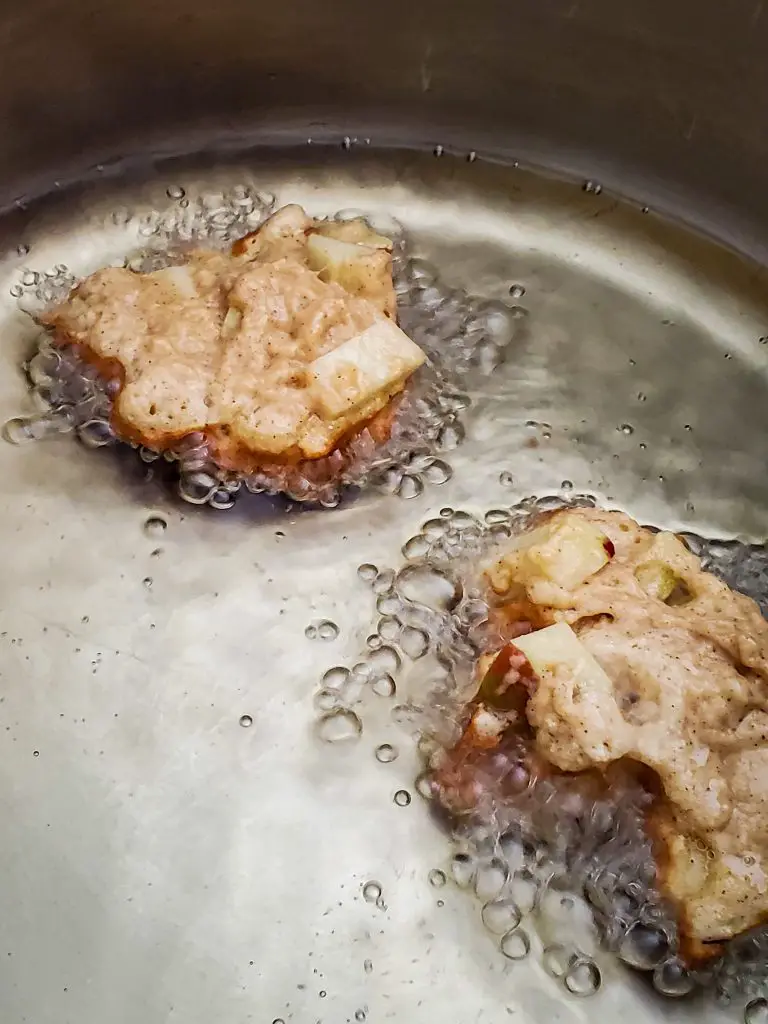 Use a large spiral spider skimmer spoon to remove fritters from hot oil. Using this tool will give you more precision when removing.
I like thicker vanilla icing to coat the fritters, but if you prefer a thinner more glaze-like coating, just gradually add more milk. A good way to measure how it will cling to the fritter is judging how it clings to the fork you are whisking with.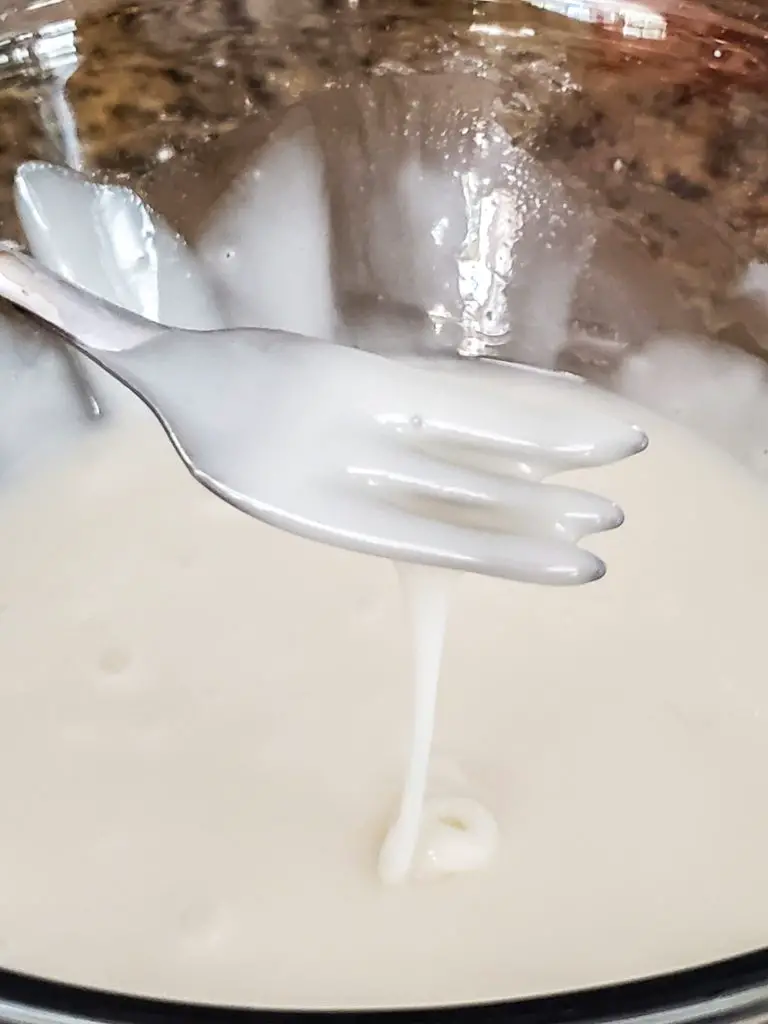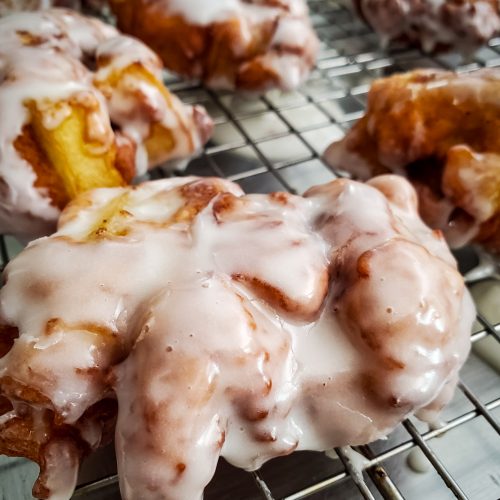 EASY CHAI-SPICED APPLE FRITTERS WITH VANILLA GLAZE
Warm and cozy homemade apple fritters wrapped in a light airy chai-spiced batter, delicately fried for a golden crunchy exterior and a soft doughy center. The perfect treat on a brisk autumn morning!
Ingredients  
Chai Spice Apple Fritters
1½

cup

all purpose flour

2

tbsp

baking powder

½

tsp

cinnamon

ground

⅛

tsp

ginger

ground

¼

tsp

nutmeg

ground

¼

tsp

cardamom

ground

½

tsp

salt

kosher

¼

cup

granulated sugar

2

eggs

3

tbsp

applesauce

unsweeteend

⅓

cup

buttermilk

¼

tbsp

vanilla extract

canola oil for frying

about 2 inches in large skillet or pot
Vanilla Glaze
1½

cup

powdered sugar

¼

tsp

vanilla extract

¼

cup

milk

add more for thinner consistency
Instructions 
To Make the Apple Fritters:
Prepare the apples by peeling, coring, and dicing about 2 large apples or 3 smaller apples.

In a large mixing bowl combine flour, baking powder, cinnamon, ginger, nutmeg, cardamom, granulated sugar, and salt. A simple whisk to incorporate will do.

In a smaller mixing bowl, whisk your wet ingredients together: eggs, applesauce. buttermilk and vanilla extract.

Make a well in the center of dry ingredients and add wet ingredients. Mix till just combined and fold in the apples.

Heat 1-2 inches of oil in a large skillet over medium-high heat. Use thermometer to reach a frying temperature of 350°-375°. Drop tablespoons size balls of batter into the oil for 4-5 minutes or until golden and crisp on all sides. Remove and drain on a wire rack with paper towels underneath. Repeat until all batter is fried.

Dip fritters into or drizzle frosting over top of warm apple fritters.
To Make the Glaze:
Whisk together the powdered sugar, milk and vanilla extract. Add more milk for a thinner consistency.
Notes
Nutrition Facts are estimates
Nutrition
Calories:
123
kcal
Carbohydrates:
27
g
Protein:
2
g
Fat:
1
g
Saturated Fat:
1
g
Cholesterol:
23
mg
Sodium:
95
mg
Potassium:
196
mg
Fiber:
1
g
Sugar:
16
g
Vitamin A:
47
IU
Calcium:
85
mg
Iron:
1
mg