Delicious and healthy homemade chicken stock in a fraction of the time using the Instant Pot pressure cooker!
Jump to Recipe
There's something deeply comforting about a simmering pot of homemade chicken stock on the stove, filling your kitchen with a rich, savory aroma. But what if you could enjoy that same delicious homemade stock in a fraction of the time? Enter the Instant Pot, your secret weapon for making homemade chicken stock faster and easier than ever before.
I make a batch of chicken stock every couple of months to have it ready to go in my freezer. Whenever my kids start to feel sick, I just defrost the nutrient-rich elixir and make them some type of comforting soup. Sometimes as simple as just the chicken stock with patina, to boost their immune system and get them on the mend.
The Instant Pot Advantage
The Instant Pot has revolutionized home cooking, and one of its standout features is its ability to drastically reduce cooking time. This translates perfectly to making chicken stock. What used to take hours of simmering on the stovetop can now be achieved in under an hour with the Instant Pot. Here's how:
1. Speedy Pressure Cooking
The Instant Pot's pressure cooking function allows you to extract maximum flavor from your ingredients in a fraction of the time. It uses high pressure to break down the collagen in the chicken bones, resulting in a rich, gelatinous stock in just 45-60 minutes.
2. One-Pot Wonder
With the Instant Pot, there's no need to constantly monitor a simmering pot on the stove. Simply toss your ingredients into the Instant Pot, set it, and forget it until it's time to strain your homemade chicken stock. This hands-off approach is a game-changer for busy home cooks.
3. Flavor Enhancement
The Instant Pot's sealed environment traps flavors, so you'll end up with a more concentrated and aromatic stock that can elevate your soups, stews, and sauces to new heights
Health Benefits of Homemade Chicken Stock
Now that we've highlighted the speed and convenience of using the Instant Pot, let's talk about why homemade chicken stock is a healthier choice compared to store-bought alternatives:
1. Nutrient Density
Homemade chicken stock is a nutritional powerhouse. It's loaded with essential vitamins, minerals, and amino acids like glycine and proline. These nutrients are known for their anti-inflammatory properties, aiding in digestion, and supporting joint health.
2. Controllable Ingredients
When you make your chicken stock at home, you have complete control over the ingredients. You can use organic chicken, fresh vegetables, and seasonings of your choice, ensuring you avoid additives, preservatives, and excessive sodium often found in store-bought varieties.
3. Reduced Sodium
Store-bought stocks can be excessively salty, which isn't ideal for those watching their sodium intake. When you make your own stock, you can adjust the salt levels to suit your dietary preferences.
4. Less Waste
Homemade stock is an excellent way to reduce food waste. You can use leftover chicken bones and vegetable scraps to create a flavorful base, reducing your environmental footprint. In my recipe/video you will see me using a whole chicken. This is because after I made the stock, I used the meat to make chicken noodle soup.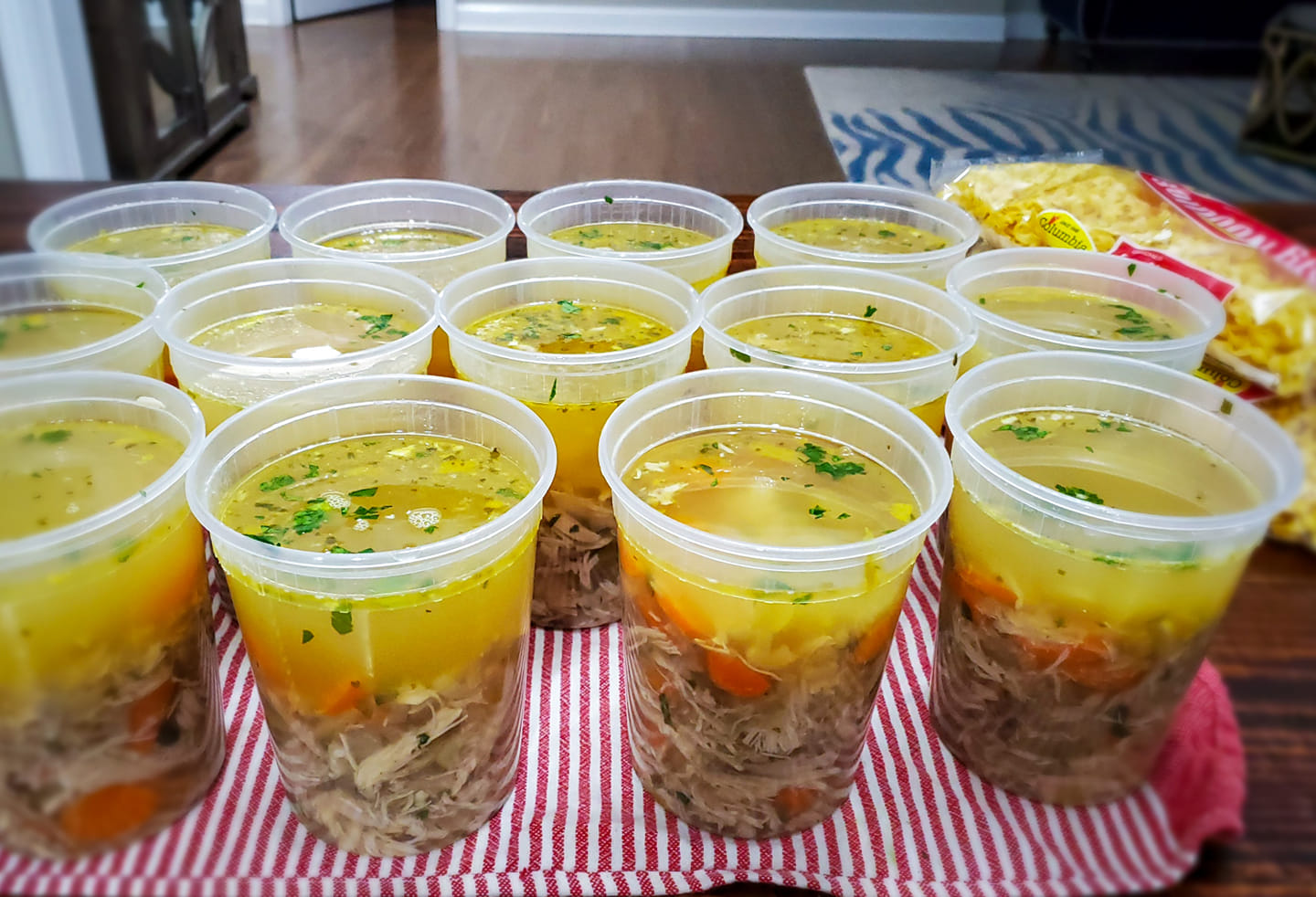 Why use Apple Cider Vinegar in Stock?
Vinegar is a common ingredient in many homemade chicken stock recipes, and it serves several important purposes in the stock-making process:
Flavor Extraction: One of the primary reasons vinegar is added to chicken stock is to help extract flavor from the bones and vegetables more effectively. The acidity in vinegar helps break down the collagen and connective tissues in the chicken bones, allowing them to release their flavor and nutrients into the stock more readily. This results in a richer, more flavorful stock.
Mineral Extraction: The acidity of vinegar also aids in extracting minerals like calcium and magnesium from the bones. These minerals contribute to the overall nutritional content of the stock, making it more nutrient-rich.
Clarification: Vinegar can help clarify the stock by encouraging the proteins and impurities to coagulate and rise to the surface as scum. This makes it easier to skim off any unwanted impurities during the cooking process, resulting in a cleaner and clearer stock.
Balancing Flavors: A small amount of vinegar can add a subtle acidity to the stock, which can help balance the richness of the chicken and other ingredients. It can provide a pleasant, well-rounded flavor profile to the stock.
Instant Pot Chicken Stock- Quick and Easy
Delicious and healthy homemade chicken stock in a fraction of the time using the Instant Pot pressure cooker!
Equipment
1 Pressure Cooker AKA Instant Pot

8 quart (7.57 l) capacity
Ingredients  
3

pounds

chicken wings or 3-4 lbs whole chicken

if using meat for soup or other purpose

1

medium yellow onion cut in half

2

medium carrots

cut in half

2

large celery ribs

cut into thirds

1

head garlic

cut in half

2

bay leaves

10

stems fresh flat leaf parsley

10

stems fresh thyme

1

tsp

whole peppercorns

2

tsp

sea salt

2

tbsp

apple cider vinegar
Instructions 
Add all ingredients to the instant pot. Add water just to the max fill line.

Secure the lid with a valve set to seal. Using the manual pressure cook setting, set pressure cooker to high for 45 minutes. Once cook time has finished, allow it to naturally release for at least 30 minutes. Turn the release valve to vent and remove the lid.

Remove the chicken from the pot. Reserve the meat for future use (chicken soup would be a great idea, that's what I did!)

Strain out vegetables and herbs, discard.

Pour chicken stock through a fine mesh strainer and then again through a fine mesh strainer with lined with a cheesecloth to catch the smallest impurities before storing in an airtight container.

Let the stock cool to room temperature before refrigerating or freezing. Stock can be stored in the refrigerator for 5 days or in the freezer for up to 6 months.
Nutrition