Tender, juicy grilled chicken thighs marinated in a blend of smokey chipotle peppers, citrusy lime, a touch of honey, and dried spices.
Jump to Recipe
When it comes to grilling, few things are as enticing as the tantalizing aroma of sizzling chicken on the grill. If you're looking to elevate your grilled chicken game this season, we've got just the recipe for you: Chipotle Lime Grilled Chicken. This mouthwatering marinade combines the smoky heat of chipotle peppers with the zesty brightness of lime, resulting in a flavor explosion that will leave your taste buds dancing with delight.
The Flavors of Chipotle and Lime:
Chipotle: Chipotle peppers are a star ingredient in this marinade. These smoked and dried jalapeño peppers bring a unique, smoky flavor to the mix. Their moderate heat level adds a pleasant kick without overwhelming the palate. Chipotles are also known for their deep, earthy undertones, making them an excellent companion for grilled meats like chicken.
Lime: Lime juice provides the perfect counterbalance to the smokiness of chipotle. Its vibrant citrusy notes add a refreshing and tangy dimension to the marinade. Lime juice not only brightens up the overall flavor profile but also helps tenderize the chicken, leaving it juicy and succulent after grilling.
When the marinated chicken breasts meet the hot grill, the magic unfolds. The grill's intense heat sears the marinade onto the chicken's surface, creating a flavorful crust that seals in the juices. The result? Tender, juicy chicken with a smoky exterior and a burst of citrus in every bite.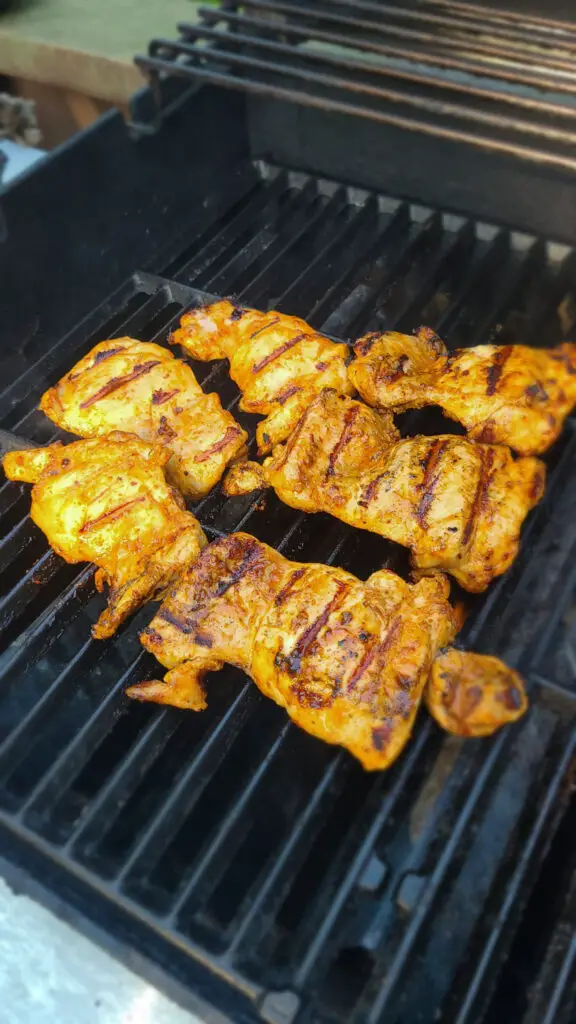 Serve the Chipotle Lime Grilled Chicken hot off the grill, garnished with fresh cilantro for a touch of herbal brightness. The visual appeal of the charred grill marks, the vibrant orange hue of chipotle, and the hint of green from cilantro make this dish as visually appealing as it is flavorful.
Chipotle Lime Grilled Chicken
Tender, juicy grilled chicken thighs marinated in a blend of smokey chipotle peppers, citrusy lime, a touch of honey, and dried spices.
Ingredients  
2 to 2.5

lbs

chicken thighs

boneless and skinless

2

whole chipotle peppers in adobo

plus 2 tbs of adobo sauce

¼

cup

lime juice

2

tbsp

vegetable oil

1

clove

garlic

2

tbsp

honey

1

tsp

chili powder

1

tsp

cumin

1

tsp

salt
Instructions 
Using a food processor, blender, or immersion blender, process chipotle peppers, adobo sauce, lime juice, oil, garlic, honey, and spices until smooth consistency.

Cover chicken with marinade in a container of choice and refrigerate for at least one hour. If you have more time, let it marinade for up to 4 hours.

When ready to cook, remove chicken from fridge and set aside at room temperature for 20-30 minutes.

Preheat your grill to medium-high heat and lightly oil the grates.

Add the chicken to the grill and brush liberally with any leftover sauce. Close grill cover, Cook for approximately 6–7 minutes per side.

Chicken is done when it reaches an internal temperature of 165F.
Nutrition
Calories:
542
kcal
Carbohydrates:
12
g
Protein:
37
g
Fat:
38
g
Saturated Fat:
10
g
Polyunsaturated Fat:
8
g
Monounsaturated Fat:
16
g
Trans Fat:
0.2
g
Cholesterol:
222
mg
Sodium:
766
mg
Potassium:
510
mg
Fiber:
1
g
Sugar:
9
g
Vitamin A:
340
IU
Vitamin C:
5
mg
Calcium:
29
mg
Iron:
2
mg