These wings are a so simple, I'm pretty sure my 12 year old could do this! Granted, he'd make a mess and probably spread salmonella all over the counter… but still he could do it! (That's supposed to be your motivation, BTW!)
Seriously though, this is a perfect and casual meal for any weeknight or even served as an appetizer to share with wing lovin' friends. They are sweet, with an approachable spiciness that anyone can enjoy. Plus, you are going to sound so cultured and exotic when you say. "Oh, you like them? They are Sticky, Sweet Thai Wings from SaltSugarSpice.com!"
Yes, I'd say the shameless plug is absolutely necessary!
Mix up the marinade/glaze

Let those wings soak in the flavors
I suggest baking in on a roasting rack instead of a baking sheet because cooking them on a baking sheet will leave them sitting in the drippings and the skin on the bottom half won't get as crisp. If you baked them on a racked baking sheet you will have even distribution of heat all around the wings so they will cook and crisp more evenly. Line the bottom pan with aluminum foil for easier clean up afterwards!
Bring to a boil to get your glaze on

Glaze and return to oven for extra crispiness
---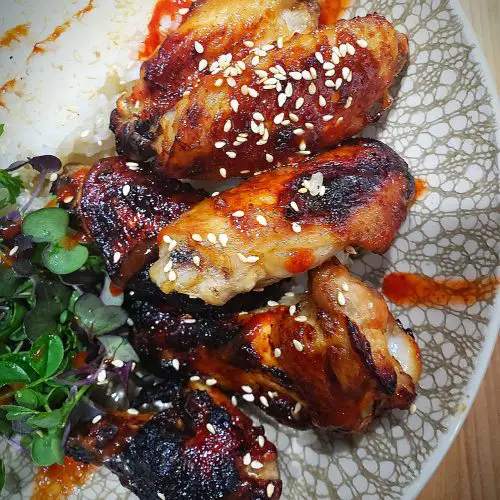 Sticky, Sweet Thai Wings
Inspired by Thai flavors, these Chicken wings are oven roasted with glaze that is both sticky and sweet – with a little bit of heat from the Sriracha. Perfect for a weeknight or party appetizer!
Ingredients  
3

lb

chicken wings

½

cup

avocado oil

¼

cup

honey

¼

cup

sweet chili sauce

I used Trader Joe's

½

cup

tamari

GF or Soy Sauce

2

tbsp.

Sriracha

1

tsp

garlic powder

1

tsp.

Minced ginger

1

tsp.

minced garlic

½

tsp.

lime zest
Instructions 
Preheat oven to 400.

In large mixing bowl combine avocado oil, honey, tamari sauce, Sriracha, chili sauce, ginger, garlic, garlic powder, and lime zest.Whisk to combine.

Add the wings to the bowl and let marinate for 30 minutes to overnight. I only had 30 minutes, and they had plenty of flavor!

Use aluminum foil to line the bottom of a 2 piece baking sheet with roasting rack. Oil the rack to prevent sticking.

Place wings on rack, skin side up, and bake using upper 2/3 of the oven. Bake for 20 minutes.

Use remaining marinade to make a glaze. Bring to a boil in saucepan for approximately 10 min or until thickened.

Remove Wings from oven and generously glaze with sauce.

Return to oven for another 20-25 minutes until crispy and evenly browned. Remove from oven and serve warm.
Notes
* Ideas for garnish would be: chopped peanuts, scallions, sesame seeds, lime wedges, or cilantro.
---