In line with the popular "plant based" trend, this recipe for Black Bean Enchilada Stuffed Sweet Potatoes proves that you don't need meat to make a hearty, satisfying meal! With plenty of protein, spice and flavor this vegetarian dinner is an absolute WINNER!
Jump to Recipe
---
Truth be told, Sweet Potatoes are not really my jam. I guess that is a strange way to lead with my little recipe spiel here, but I feel like it's actually pretty pertinent information.
You see, I know sweet potatoes are so healthy! They are loaded with fiber, potassium, vitamins, and other essential nutrients. I so desperately want to be a fan, and to make my kids a fan too! I'm sure you can relate. There must be some healthy food out there that you know would be beneficial for you to eat, but you just really don't like the taste!
But because I'm stubborn, I refuse to throw in the towel on sweet potatoes! Therefore, I'm always looking for ways to to incorporate them into recipes in order to benefit from their healthy attributes, but at the same time I need to find ways not to torture myself and make the sweet potato taste a little less like a sweet potato!
I was really close when made this recipe for SWEET POTATO AND RED LENTIL CURRY and I realized that what I need to add to sweet potatoes to make them more palatable for me was – SPICE!
So, off the Mexican rails I go with this recipe which stuffs baked sweet potatoes with savory black beans and a mildly spicy, tangy chili powder packed homemade enchilada sauce! For my salty loving tastebuds, this was the perfect flavor profile to neutralize the sweetness and make enjoying a sweet potato , no longer a dream .. but a delicious reality!
Now if you are already a sweet potato fan -GOOD FOR YOU- and I'm only being slightly snarky. You are two steps ahead of me and you are going to love the recipe even more than I do!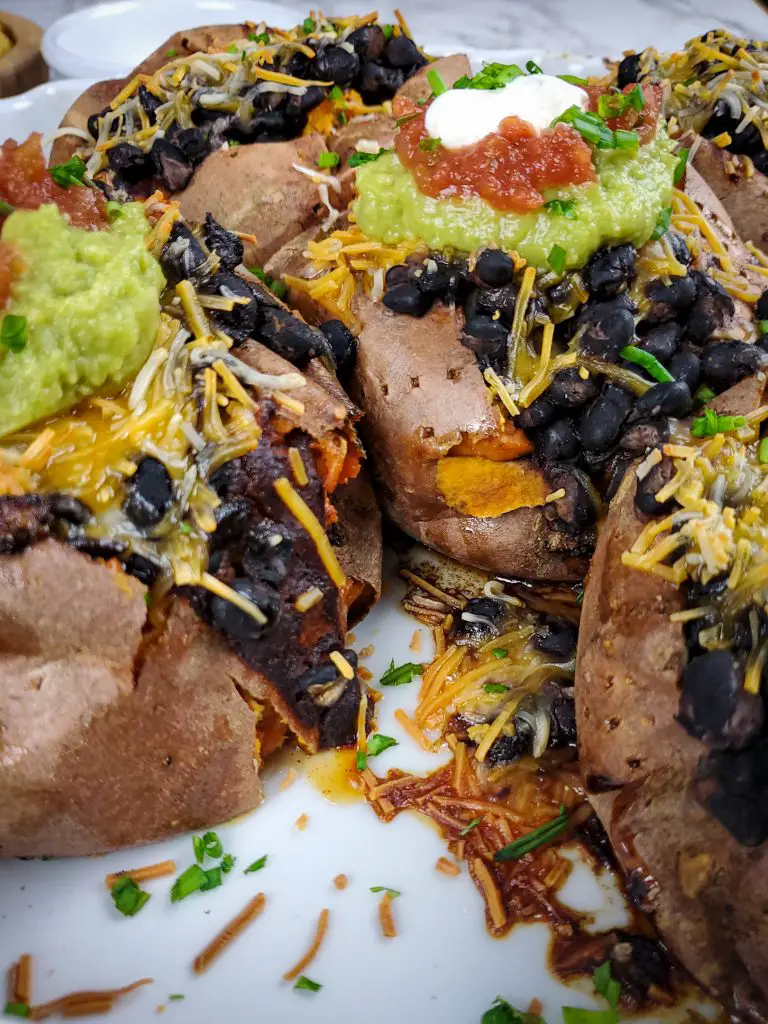 INGREDIENTS FOR BLACK BEAN ENCHILADA STUFFED SWEET POTATOES
Enchilada Sauce– homemade is really easy and you most likely have all of these pantry staples to make it. But if you must, you could use a bottle of your favorite store bought enchilada sauce.
Black Beans- I really recommend making these from scratch for this recipe. The black beans are kind of the co-star to this sweet potato show, so it would be wise to make them as delish as possible. Follow my recipe for INSANT POT BLACK BEANS, and I promise you won't be disappointed- AND you will have some leftovers to use in your upcoming recipes. If you cannot make from scratch due to timing issues, go ahead and use canned. But promise me, you will at least saute' them with some onion, garlic and spices first!
Sweet Potatoes- Look for larger ones that can hold a lot of stuffing and will satisfy as a main course.
Shredded Cheese: You can choose your own combination like Cheddar and Monterey Jack or buy a pre-made mix. Or keep it Vegan and skip the cheese altogether.
Toppings: These are optional (I guess) but for the record, highly recommended! Think: guacamole, salsa, pico de gallo, hot sauce, greek yogurt, avocado slices, crushed tortilla chips, chopped onions, chives or scallions. Anything goes!
How to Make Black Bean Enchilada Stuffed Sweet Potatoes
1. Bake the sweet potatoes
2.Make the Black Beans or use canned and add spice.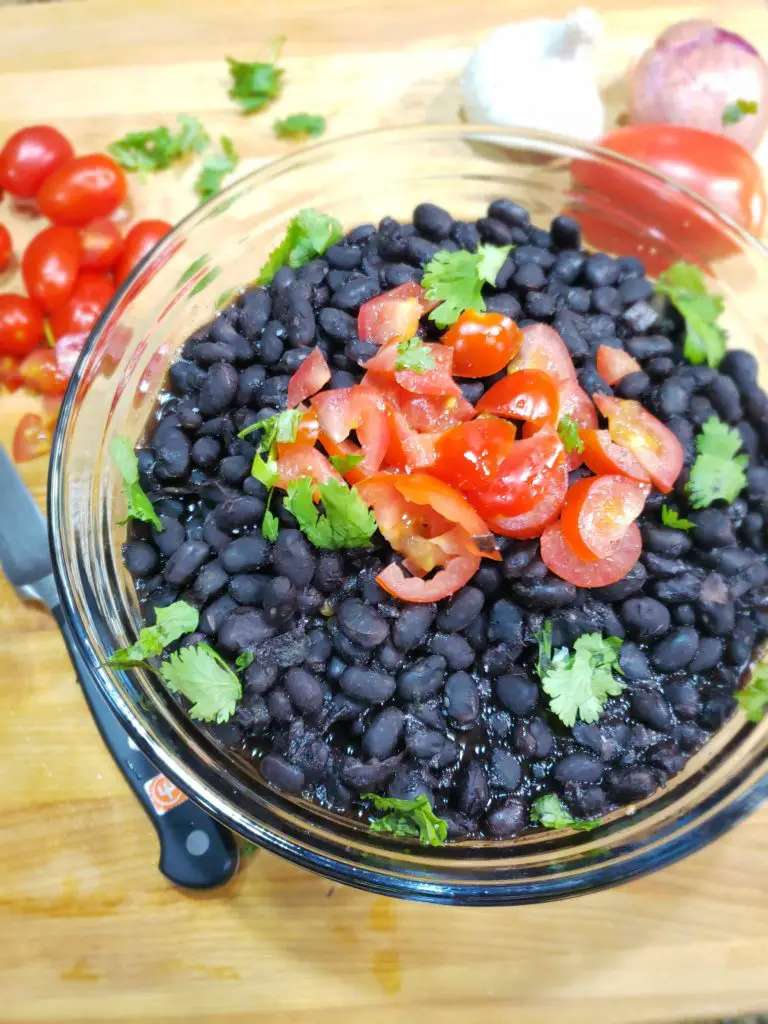 3.Make the Enchilada Sauce
4.Fill the Sweet Potatoes with enchilada sauce, black beans and cheese.
5.Return to oven to melt cheese
6.Add desired toppings and serve!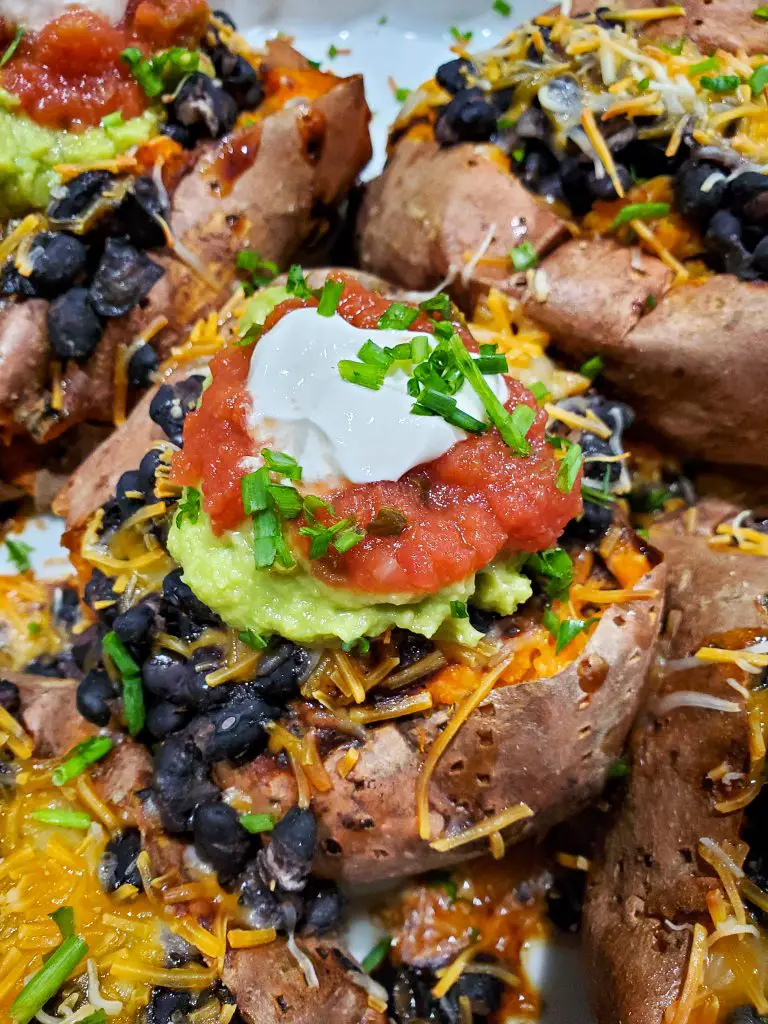 IF YOU LIKE THIS RECIPE, CHECK OUT SOME OTHERS YOU MAY ENJOY: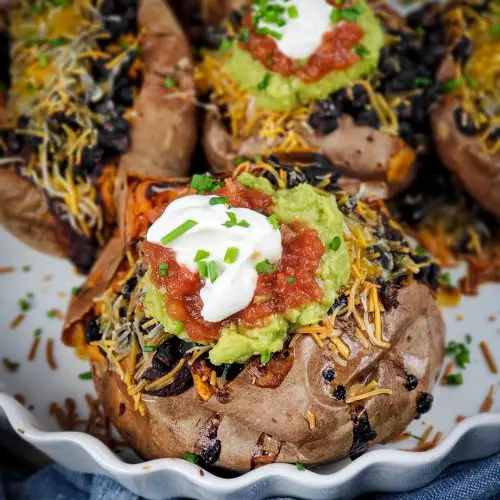 Black Bean Enchilada Stuffed Sweet Potatoes
In line with the popular "plant based" trend, this recipe for Black Bean Enchilada Stuffed Sweet Potatoes proves that you don't need meat to make a hearty, satisfying meal! With plenty of protein, spice and flavor this vegetarian dinner is an absolute WINNER!
Ingredients  
Homemade Enchilada Sauce
3

tbsp

vegetable oil

3

tbsp

all-purpose flour

4

tbsp

chili powder

1

tsp

ground cumin

1/4

tsp

cayenne

1/4

tsp

dried oregano

1/4

tsp

onion powder

1/4

tsp

garlic powder

1/2

tsp

kosher salt

plus more to taste

2

tbsp

tomato paste

2

cups

vegetable broth
Black Bean Enchilada Stuffed Sweet Potato
5

Sweet Potatoes

1 1/4

cup

shredded Mexican Cheese Blend

1 1/4

cup

enchilada sauce

recipe above

1 1/2

cup

Instant pot black beans

recipe here or 1 can black beans (*see recipe notes)

Desired Toppings

avocado, guacamole, salsa, sour cream, chives, scallions
Instructions 
Bake the sweet Potatoes:
Preheat the oven to 400°F. Use a fork to pierce the sweet potatoes all over. Place them on the lined baking sheet and bake for 50 to 60 minutes, until soft. Time will vary depending on the size of the sweet potato.
Make enchilada sauce:
Heat the oil in a medium non stick saucepan over medium heat. Add the flour and whisk for 1 minute to form a paste. Add spices and tomato paste, stir to combine with flour paste. Slowly pour in the broth. It will take a few minutes of whisking constantly to make the mixture smooth. Lower heat, and let the sauce simmer for 10 to 12 minutes. It will thicken, as it simmers. Taste and add more salt if desired. Remove from heat and reserve for baked sweet potatoes.
Assemble Black Bean Stuffed Sweet Potatoes:
Slice the baked sweet potatoes in half lengthwise. Use a fork to fluff up the inside flesh and pour about 1/4 cup of Enchilada sauce over top. Use fork to incorporate sauce and sweet potato. Next, spoon on about 1/4 cup of black beans and cover with about 1/4 cup of cheese. Return to baking sheet and place back in preheated and bake for 5 to 10 minutes, until the cheese has melted. If making in advance, refrigerate until ready to bake, and when desired bake in 400 degree oven covered for 30 minutes and uncovered for 10 to evenly heat.
To serve:
Serve warm, and spoon on desired toppings such as sour cream, salsa, guacamole, chives or scallions
Notes
Nutrition Facts are Estimates:
Instant Pot Black Beans (recipe here) are preferred If using canned black beans, rinse drain and saute' with 1/2 onion minced, 2 cloves garlic, 1/2 tsp salt, 1/2 tsp cumin, 1/2 tsp chili powder. 
Nutrition
Calories:
403
kcal
Carbohydrates:
54
g
Protein:
16
g
Fat:
15
g
Saturated Fat:
10
g
Cholesterol:
17
mg
Sodium:
1575
mg
Potassium:
844
mg
Fiber:
12
g
Sugar:
12
g
Vitamin A:
21244
IU
Vitamin C:
6
mg
Calcium:
401
mg
Iron:
4
mg